Community-impact ingenuity shines at South Island challenge
Peter B. Gustavson School of Business
- Mackenzie Ford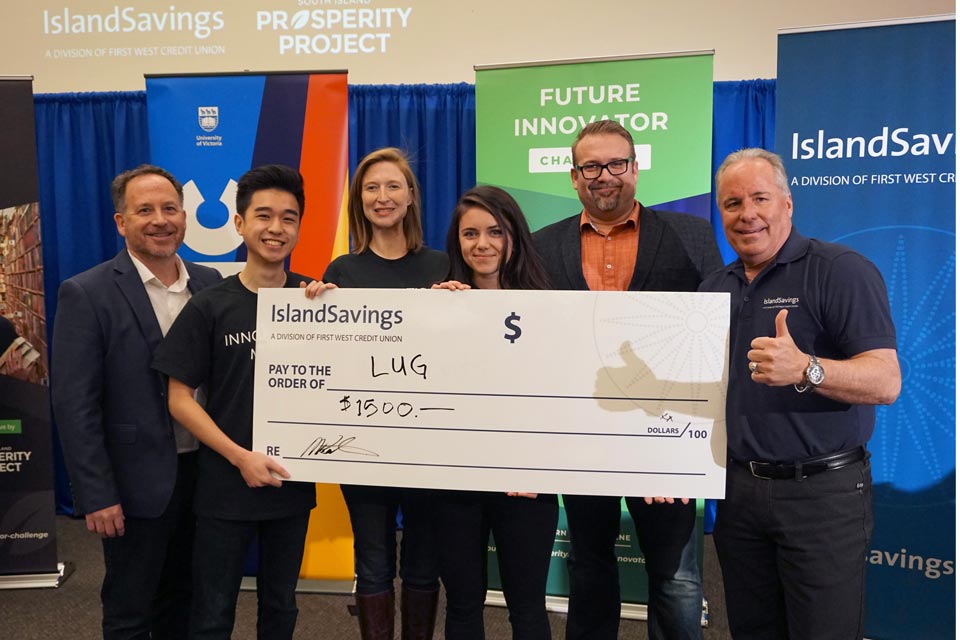 Three teams of Gustavson students sweep regional competition's post-secondary category
On Jan. 13, the South Island Prosperity Project (SIPP) hosted the Future Innovator Challenge, a competition for the region's high school and post-secondary students. SIPP's intent with this challenge: to engage young innovators in helping to improve the quality of life for citizens of the region. Run for the first time this year, the challenge saw a high degree of involvement from the Greater Victoria community, receiving over 80 proposals from local high schools and post-secondary schools including Camosun, Royal Roads and UVic. 
The top three prizes in the two age groups came with seed funding of $1,500, $750, or $500, offering a substantial reward to teams who could present the most innovative solution for one of the following themes: transportation and mobility, housing and affordability, economic resilience and inclusion, environmental health, and human health and wellness. 
"If you look at the region's most pressing issues, some of them are very big, macro issues that require innovative thinking," says Dallas Gislason, Director of Economic Development at SIPP. Instead of seeking the "magic bullet" for these enormous issues, Gislason and SIPP believe that the power of this challenge lies in the conversation and involvement it inspires. "The biggest success is gaining interest and engagement on these problems and getting people to approach them with passion and their own life experience." 
Student teams from UVic's Gustavson School of Business swept the competition, taking the top three spots of the post-secondary category. Their creative thinking and entrepreneurial spirit were on display throughout the event, which is perhaps not too surprising given the school's focus on developing innovative and socially responsible leaders.
Landing at the top of the podium were Gustavson students Audrey Wright, Cyrus Lee, Josh Desrochers, Magnus Kristensen, Tyler Arseneault and their product Lug, a person-to-person delivery service that connects community members, thus eliminating excess shipping waste and saving costs. One can browse local "for sale" sites and connect with community members heading to their destination that can pick up an extra item along the way. "I first came up with the idea for Lug in my ENT 100 course," says Derochers. "I was looking on Kijiji for used furniture and was disappointed when I found the perfect piece at the right price, but a two-hour drive away. With no means of picking it up myself or having it shipped at a low cost, I had to let it go." Months later, Derochers and his team channelled their own experiences to create this innovative and sustainable delivery solution, ultimately winning them the competition. 
Taking second and third place were Gustavson students Jarl Whist, Sophie Eckard, Ian McGavin, Sydney Blackwell, Juan Castillo with SharedSpaces, a website to connect students with vacant properties in the region's rental market; and Clio Hofler, Gavin Kratz, Alex Sawers, Annie Washington and Ian Zhong with their idea Victoria Connect, a platform connecting the region's non-profit organizations. 
When asked about Gustavson's strong performance, Stacey Fitzsimmons, a Gustavson professor of international business, touched on the school's holistic approach.
"The winners excelled at both the practical proposals and the analysis of human behaviour," says Fitzsimmons. "Often people look at problems related to technology and data as purely technical problems, with purely technical solutions." Instead the Gustavson students looked at how they could apply the data they analyzed to help real people and real communities.  "Our students looked at the challenge with a different perspective—that's what gave them an advantage," says Fitzsimmons. 
Although Gustavson students placed highly at the competition, it was apparent that each student was passionate about their idea—they were not there simply to win. "Participating in the Future Innovator Challenge taught me that solving local issues is the basis of creating a sustainable world around us," said third-year BCom student Alex Sawers, a Victoria Connect team member. "Innovation starts with understanding your local surroundings and where change can occur. Being able to improve our community is the start towards a more sustainable path for everyone, and the Future Innovators Challenge provides students with the platform to make a difference."
Photos
In this story
Keywords: entrepreneurship, community, business
Publication: The Ring