Neuroscience students start year with research kick-off
The school year has only recently begun, but neuroscience students at the University of Victoria are already hard at work.
At the Neuroscience Kick-Off, held in September, graduate students showcased their latest research – from mapping the visual system to tracking the brain's response to physical activity and fatigue.
"We had a fantastic turnout, with students, post-doctoral fellows, and senior scientists joining in," said Essie Mehina, a second-year PhD candidate who helped organize this year's event, hosted by UVic's Division of Medical Sciences (DMS).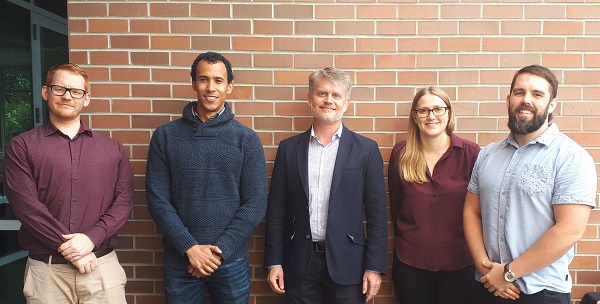 After a morning meet-and-greet, four students from the program's three disciplines – the DMS, the Department of Biology, and the School of Exercise Science, Physical and Health Education (EPHE) – gave research presentations, including Laura Hanson and Juan Sanchez-Arias.
Hanson, a third-year PhD student in biology, is mapping the mechanisms that allow us to track moving objects. Her work is helping us to better understand the visual system, which could, in turn, shed light on the workings of other, similar circuits in the brain.
Sanchez-Arias, a third-year PhD student in the DMS, is studying how neurons communicate and form networks – knowledge that may one day lead to better treatments for neurological disorders, like autism and schizophrenia, and neurodegenerative diseases like Alzheimer's.
The event also featured a keynote speaker, Dr. Scott Soderling, a world-renowned neuroscientist from Duke University, based in Durham, North Carolina. Dr. Soderling is studying how brain disorders affect synapses, the connections between neurons. His work is transforming our understanding of how neurons process signals and establish networks.
"It was an honor to be invited," said Dr. Soderling, who, at the BBQ lunch following his presentation, offered career advice to attending students. "I had a wonderful time, and I was really impressed with the research they're doing."
For Sanchez-Arias, who nominated Dr. Soderling as the keynote speaker, the feeling was mutual.
"He was inspiring, and his presentation was stimulating and engaging – a perfect way to start the year."