Science Minister visits UVic, tours DMS labs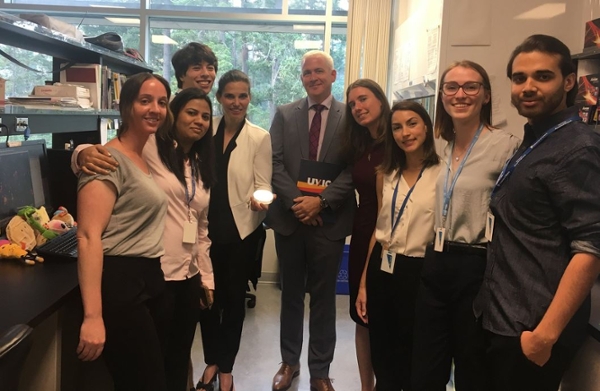 The best science happens when barriers to participation are removed so that everyone can contribute, says federal Science Minister Kirsty Duncan.
Duncan paid a recent visit to the University of Victoria, her latest stop on a cross-country tour to discuss how Canada's research communities can improve equity, diversity, and inclusion – particularly in the fields of science, technology, engineering, and math (STEM).
"We understand that our future will be brighter when all people are empowered to fulfill their greatest ambitions," she said in a media release about her UVic visit.
Though females in Canada are the majority of university graduates (66 per cent in 2011), they account for only 39 per cent of STEM graduates. When they do graduate, they have higher unemployment rates, lower wages, and a higher rate of job mismatch compared to their male peers – even when there's no clear difference in ability.[1]
The numbers are similar in higher education: 36 per cent of PhD STEM graduates are women. Only 30 per cent hold one of Canada's 1,612 research chair positions.[2]
To address this inequality, Duncan announced this summer that the federal government would adopt the Athena SWAN (Scientific Women's Academic Network) initiative, an internationally recognized program that celebrates those in higher education who implement practices to improve equity, diversity and inclusion in STEM.
To that end, she's been visiting post-secondary institutions across the country, talking with students, academics, and researchers to understand how best to implement SWAN. Her trip to UVic was the latest on that tour.
Before discussing the topic with representatives from UVic, Royal Roads University, Camosun College, and North Island College, she toured the labs of two female scientists working in UVic's Division of Medical Sciences (DMS), whose work may transform treatments for those with serious neurological conditions.
Dr. Stephanie Willerth, associate professor in the Faculty of Engineering and the Canada Research Chair for Biomedical Engineering, showcased her 3D-printing lab, where she and her students are studying stem cell-based tissue engineering.
Stem cells are the basic building blocks of the body. They have the unique ability to divide indefinitely and morph into other cell types, each with specialized functions, such as neurons found in the brain or red and white cells in the blood.
Among other work, Willerth and her team are exploring ways to cultivate stem cell tissues for transplant in the spinal cord – a method of treatment that may one day improve, or even restore, spinal function lost to disease or injury.
Dr. Leigh Anne Swayne, who in April received a $220,000 grant from the Canada Foundation for Innovation, studies the fundamental mechanisms of cellular plasticity – how cells grow, develop, and survive – in the brain and heart.
The research she and her students are doing is paving the way for better treatments for various neurological conditions including Schizophrenia, autism spectrum disorders, stroke, and Alzheimer's. Their work on genetic variants underlying heart disease has already improved diagnosis and patient care.
 "Dr. Swayne, Dr. Willerth and their teams are carrying out cutting-edge research that has the potential to impact the health of Canadians across the country," said Duncan. "These hard-working scientists are also important role models for the young women and girls across Canada who dream of fulfilling their greatest ambitions in STEM."
[1] https://www150.statcan.gc.ca/n1/pub/75-006-x/2013001/article/11874-eng.htm
[2] https://www.macleans.ca/society/canadas-science-minister-speaks-out-on-women-in-stem/