Research help desk
What we do
The research help desk helps you find information for your research assignments. We will help you articulate your research question, identify the best sources, and formulate your search strategy. We offer these services for students, faculty, and the community. We don't set up your computer or do your research and assignments for you.
When you don't know where to start, or you can't think of what to do next, we can help.
Our librarians also:
answer simple factual questions
provide research consultations for more involved questions
are available for subject librarian appointments (researchers with very specific or distinct areas of interest may benefit)
Answer your questions about library policies, procedures and services.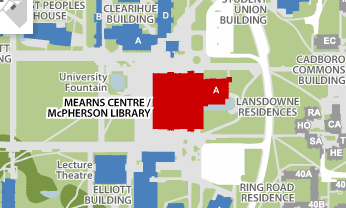 Address
Mearns Centre - McPherson Library
University of Victoria
PO Box 1800 STN CSC
Victoria, B.C., V8W 3H5
Canada
[See location on Google Maps]
Phone
250-721-8274
Drop by the Research help desk for answers to your research and assignment questions, located on the main floor of the library. Check our Research help desk hours. Contact us by:
phone: 250-721-8274
Book

 

a consultation with a Reference Librarian or drop by our office, room 135e in the Learning Commons
For more in-depth help, book an appointment with a subject librarian.
We have an office in the Academic Help corridor, Rm 135e.  Hours are 10 am to 4pm Monday to Friday. Drop by or book an appointment.
For in-depth help, book an appointment with a subject librarian.