"Yes, this is my album": a new digital exhibit of Victorian scrapbooks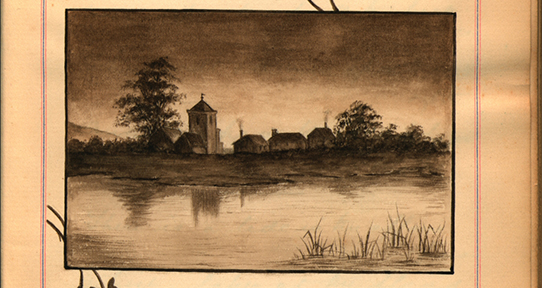 One of the many paintings (signed by a friend) collected in the Lilian L. Kidman Album, 
a friendship autograph album featured in the exhibit.
by: Elizabeth Bassett, Digital Access Assistant, Special Collections and University Archives (YCW)
The University of Victoria Libraries Special Collections and University Archives houses a variety of Victorian-era scrapbooks. You can now see a selection of these in my online exhibit, "Yes, this is my album": Victorian Collections of Scraps, Signatures, and Seaweed. In addition to providing access to the fully digitized volumes, the exhibit contextualizes the materials with a narrative overview of Victorian scrapbooking.
Although scrapbooking has a long history, the term "scrapbook" was first used in the 19th century. The activity became highly accessible during the Victorian era; as printing technologies improved, ephemeral print materials became more widely circulated. People began cutting these materials up and gluing them into what would become personally meaningful books. The pastime was enjoyed by many people, regardless of age, gender, vocation, or socioeconomic status.
Often, people chose to include other things in their scrapbooks: for example, locks of hair, pressed flowers, dried seaweed, and signatures. Because of the varied contents, the term "scrapbook" sustained a flexible meaning. It was used interchangeably with the term "album," and both simply indicated that things (printed or not) were being collected in books.
Despite the flexible boundaries of the practice, categories of scrapbooks emerged. "Yes, this is my album" explores three of these categories: traditional scrapbooks, autograph albums, and seaweed albums.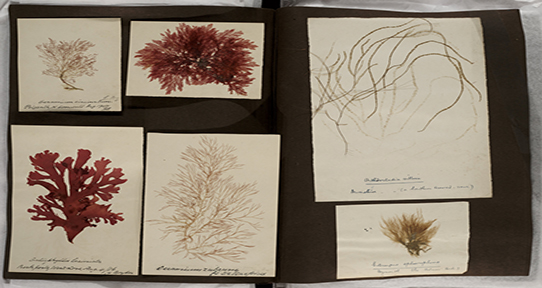 Examples of dried and pressed specimens from the exhibit's featured seaweed album: 
the Edward Morell Holmes Herbarium
The exhibit's featured volumes include, among other examples:
While none of the featured volumes were created by famous figures, the exhibit aims to highlight the value of scrapbooks as records of everyday life. Often compiled by people who were never mentioned in published books, scrapbooks shed light on how people chose to memorialize their own lives.
As "Yes, this is my album" was curated over two remote work terms (funded by UVic Libraries and the Government of Canada's Young Canada Works in Heritage Institutions program), I designed the exhibit with an eye to supporting research and teaching in both digital and in-person environments. As well as allowing viewers to browse digitized versions of the featured scrapbooks, the exhibit promotes future in-person access with its inclusion of an annotated list of Victorian scrapbooks held at UVic.
If you are interested in learning more about the exhibit, the scrapbooks, or Victorian-era scrapbooking, please join me for a hands-on Victorian scrapbooking workshop on March 12.
Learn more and register.
Thank you to everyone who made the curation of this exhibit possible:
Tiffany Chan, Digital Scholarship Developer/Analyst, Systems Services
Heather Dean, Associate Director, Special Collections
Page DeWolfe, Library Assistant, Digitization Centre
Karen Dykes, Library Assistant, Metadata
John Frederick, Library Assistant, Special Collections
Braydon Justice, Digital Scholarship Developer/Analyst, Systems Services
Samantha MacFarlane, KULA Managing Editor and Special Projects Administrative Officer
Katharine Mercer, Supervisor, Digitization Centre
Dean Seeman, Head, Metadata
Lara Wilson, Director of Special Collections and University Archivist