Archivist Jane Morrison takes us down memory lane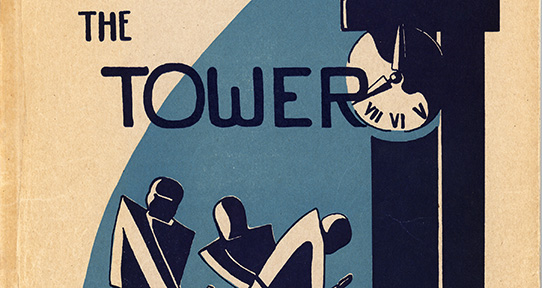 by: Jane Morrison, Associate University Archivist
Want to spend some time immersed in Victoria's post-secondary student life from decades gone by? With the Libraries' Digitization Centre's assistance (2019 Innovator winners of the President's Extraordinary Service Award) and the hosting of the Internet Archive, the University Archives invites you to remotely explore the many digitized yearbooks in our holdings.
UVic's predecessors, Victoria College and the Provincial Normal School, were established in 1903 and 1915, respectively. The Normal School became the Faculty of Education of the College in 1956. Students of both schools published yearbooks annually, as did UVic students until 1968. Many of the yearbooks' covers feature striking original art, representing campus imagery and student life.
The 1922-23 academic year of the Normal School was the first of its annuals. "We shall merely state that the increase in numbers which the Normal School witnessed last September brought with it a great increase in all that can be summed up under the somewhat nebulous heading of school life," states its editorial.
In the 1926-27 year, it was officially named Anecho (before that it was known simply as the Normal School Annual), however the editorial of that year does not explain the naming choice. Its cover features a simple golden shield and bough of Garry Oak leaves.
Simply known as the Annual, Victoria College's publication was next named the Craigdarroch during the years the college was housed at Craigdarroch Castle. With only seven students in its first year, it wasn't until the 1920s that Victoria College had the student population to justify an annual. When the college moved into the Normal School on Lansdowne Road, it adopted the Tower name from the building's iconic clock tower. Tower '67 is an astounding example of the yearbook form, from its cover art by Eric Metcalfe and atmospheric photos of the new Gordon Head campus, to its recording of the tumult between the faculty, administration, and students, and its lovely summary of Victoria College history.
The UVic logo on the inside cover of the two final Towers is definitely worth a look. Was this a case of unauthorized branding? The 1967 editorial calls for "…some person to gather and write the definitive work on the College's history," a challenge first fulfilled by Peter L. Smith in 1993 with A Multitude of the Wise: UVic remembered, which has also been digitized and is available through the Internet Archive. We invite you to learn more about these annuals through these online resources.
In addition to the yearbook holdings, the University Archives also preserves ephemera, photographs, oral histories and administrative records of Victoria College, the Normal School, and UVic. When our reading room is open again, you are welcome to come in and see them in person. Please get in touch with us to find out more: archives@uvic.ca