Purchase of Robert Burns Poems honours UVic Professor
by: Lara Wilson, Director Special Collections & University Archivist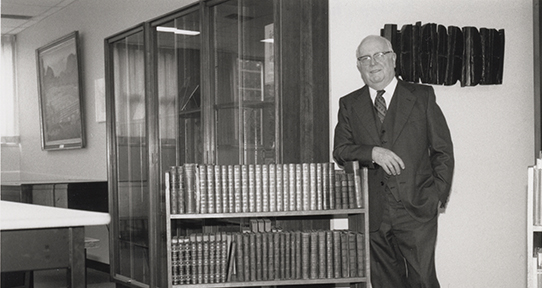 Roger Bishop in previous Special Collections & University Archives space in McPherson Library (photo undated).
It is with gratitude and pleasure that UVic Libraries shares the news of a significant gift from the estate of Professor Roger Bishop (1916-2016).
Head of the English Department at Victoria College and then the University of Victoria, as well as a founder of what would become the university's Theatre Department (1945-1971), Bishop was a passionate advocate and builder of library collections, especially the rare book holdings at the heart of UVic Libraries' Special Collections department.  A librarian as well as a literary scholar, Professor Bishop "could be said to be the father of Special Collections" as observed by colleague Dr. Ann Saddlemyer.  
In honor of Professor Bishop, who died in 2016 just weeks short of his 100th birthday, UVic Libraries purchased a finely bound second edition of Robert Burns' Poems, chiefly in the Scottish dialect, a volume that had eluded Professor Bishop, much to his regret, during a significant book buying trip to the U.K. in 1953.  "UVic Libraries has collections of international significance thanks to Roger's vision and leadership," said University Librarian Jonathan Bengtson.
In addition to gifts-in-kind from his own collections, Professor Bishop's bequest of more than $400,000 will ensure that the Libraries will continue to be nourished by his vision.  The Bishop gift will support the acquisition of archival and rare print materials to advance learning and research in the field of English language and literature.