The Endings Project: Robert Graves Diary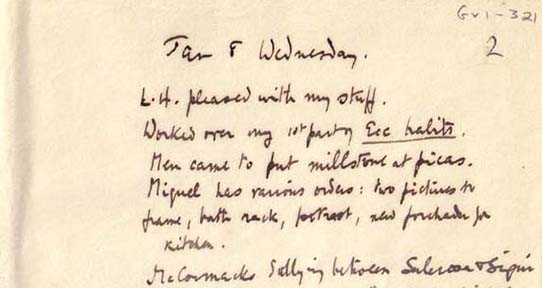 Jan 8 Wednesday [1936]. Diary of Robert Graves 1935-39 and ancillary material. 
UVic Special Collections & University Archives, SC050

by: Lisa Goddard, Associate University Librarian, Advanced Research Services and Lara Wilson, Director, Special Collections & University Archivist
Academic libraries and archives have always been responsible for ensuring that important research is preserved and maintained for the use of future scholars. Paper-based print and archival materials are generally stable as long as they are kept in a climate-controlled environment and handled gently. Digital information is much less stable over time, especially as the underlying software that contains and displays the content becomes obsolete. The Endings Project at UVic seeks solutions that can allow libraries to preserve complex research web sites and ensure that they remain accessible to scholars indefinitely.
UVic Libraries are proud to have partnered with the Endings Project to archive the Robert Graves Diary. This looks like a normal website, but it is able to provide full browse and search functionality without the use of any complex server-side software. We "staticized" the site so that, like a book on shelf, it can be picked up in the future and read in any browser. This Endings-compliant website offers a first-in-Canada prototype for scalable, sustainable archiving of digital research projects.
Robert Graves (1895-1985) was an English novelist and poet; in 1969, UVic Libraries' Special Collections acquired his diary materials. These handwritten diaries form a part of our significant rare and unique holdings in Modernist literature. The original Graves Diaries digital edition was created in the early 2000s, and was one of the earliest TEI XML-based digital editions undertaken by UVic's Humanities Computing and Media Centre (HCMC).
Thank you to everyone who has contributed to this resource over many years. The Graves diaries and other literary collections are the subject of UVic Libraries' 2016 publication Fronts of Modernity: The 20th-Century Collections at the University of Victoria Libraries.