Reconciliation 2020: Looking Back, Moving Forward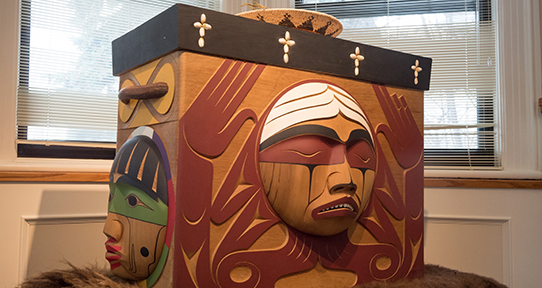 photo credit: National Centre for Truth and Reconciliation

by: Ry Moran, M.S.C., Associate University Librarian - Reconciliation
Returning to the University of Victoria is an opportunity I am deeply thankful for. Not only is my family reunited after being apart for many years, but I am thrilled about the work underway across UVic Libraries and the entire campus community.
In looking forward, we are embarking on an exciting journey. Initiatives being imagined within the Libraries will help realize many of the important Calls to Action issued by the Truth and Reconciliation Commission. Library support to the newly established Indigenous Law program is a fantastic example of the work that lies ahead. Complex questions need be explored as we collectively embrace the vital role Indigenous legal traditions will play in furthering this country's journey of establishing respectful relationships.
In my former role as Director of the National Centre for Truth and Reconciliation, one of the questions most frequently asked of me was: How are we doing as a country – are we, as a nation, taking the Calls to Action seriously?
The answer to this is always mixed. In certain regards, this country has made impressive strides in the areas of education and social memory. Tens of thousands of youths across this country are now learning about residential schools and Canada's grim human rights record. Two residential schools were recently designated National Historical Sites, and the residential school system as a whole was officially designated an event of national historical significance. This step clearly says to all Canadians that Canada's human rights failures are a defining element of our shared history. Collectively, it is more imperative than ever to know, understand, and work diligently to correct past wrongs.
There also remain many challenges present here in Canada, however. Efforts to implement the United Nations Declaration on the Rights of Indigenous Peoples remain nascent. Many elected leaders across the country continue to resist implementation of the inherent human rights articulated within the Declaration. We have yet to witness establishment of the National Council on Reconciliation as well. This essential mechanism is intended to monitor and report annually on the state of reconciliation.
There is significant ongoing litigation to protect data sets containing vast amounts of non-identifying statistical information that provides insight into the trauma endured by generations of young children in residential schools. These data sets, despite broad support for their preservation by Indigenous and non-Indigenous allies, are presently slated for destruction by March 2021. Losing this information would represent an irreparable harm to national memory.
As such, our progress on issues of truth and reconciliation remains lurching, hesitant and complex. Five years out from the release of the TRC's Calls to Action, it remains as important today as it did then to reflect upon what each of us is contributing to the realization of these goals.
As the eloquent Murray Sinclair so aptly stated at the closing events of the TRC in Ottawa: "We have described for you a mountain and shown you a path to the top. We call upon you to do the climbing."
We still have a great deal of climbing ahead of us.
Wishing you well and the very best of health during these complex times.