Rare Silk 19th Century Book of Hours Produced by Proto-Computer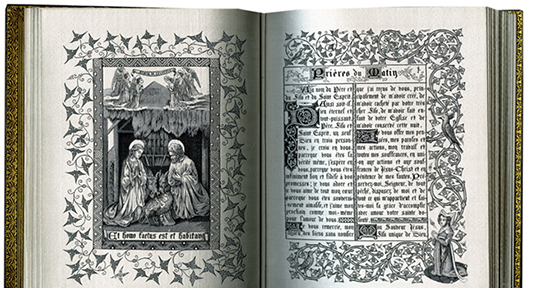 UVic Libraries acquired a rare copy of Livres de Prieres Tissé d'après les enluminures des manuscrits du XIV au XVIe siècle.  This unique Book of Hours is neither a manuscript nor a printed book, but instead, was machine-woven with gray and black silk. 
It was produced in Lyon between 1886 and 1887 using a system of punched cards developed by Joseph-Marie Jacquard (1752-1834).  Made to look like a medieval Book of Hours, the volume represents a melding of old and new artistry.  Created with roughly 200,000 to 500,000 cards – it is a surviving copy of one of only 50-60 that used the innovative technology that inspired Charles Babbage's "Analytical Engine," a precursor to the modern computer. 
A copy was displayed in the 1889 Lyon Pavilion at the Universal Exposition where its manufacturer, J.A. Henry, won grand prix.  With this acquisition through our donor endowment funds, the University of Victoria Libraries joins the few libraries who possess one of these remarkable volumes.  UVic's acquisition is from the private library of collector Jacques Levy (Istanbul 1905-New York 1980).