Poetry, Paper, and Prints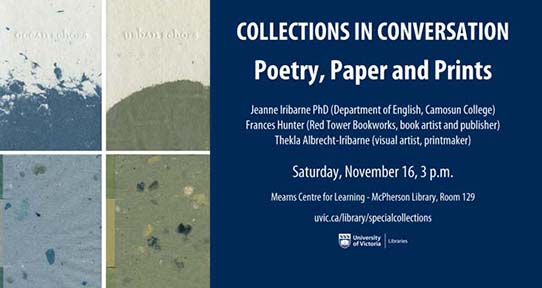 Collections in Conversation: Poetry, Paper and Prints
Jeanne Iribarne PhD (Department of English, Camosun College)
Frances Hunter (Red Tower Bookworks, book artist and publisher)
Thekla Albrecht-Iribarne (visual artist, printmaker)

A reading by poet and playwright Jeanne Iribarne (J. Iribarne) from two new poetry chapbooks, Ocean Echoes and Urban Echoes, published in Victoria by Red Tower Bookworks.
Following the reading, Frances Hunter will comment on the design, papermaking, printing, and binding of the special and regular editions with a hands-on display of materials and tools used in making the chapbooks.
Printmaker Thekla Albrecht-Iribarne will display work made in collaboration with her daughter Jeanne which introduces an alternative approach to integrating poetry and image.
Date: Saturday, November 16, 2019
Time: 3 p.m.
Location: Special Collections and University Archives, Mearns Centre for Learning - McPherson Library, Room 129
Collections in Conversation brings together the campus and the community to explore and share highlights from Special Collections and University Archives. Refreshments follow the informal talks.