The Mountain Legacy Project: Mountains of Data
by: Shahira Khair, Data Curation Librarian 
UVic Research Group Among First to Collaborate with New Canadian Data Repository
From the 1880s through the 1950s surveyors with the Dominion Topographic Survey, the Geological Survey of Canada, and other government departments deployed an effective method of surveying the mountains of Western Canada known as phototopographic surveying. These methods left a legacy of systematic photographs with nearly complete coverage of much of the landscape, offering an unprecedented data set for researchers to analyze landscape conditions during a period of intense development and ecological transitions.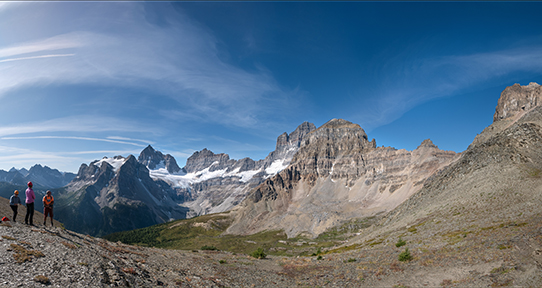 Looking up to The Towers. Mountain Legacy Project members surveying the route ahead during a recent expedition. Photo courtesy of M. E. Sanseverino and the Mountain Legacy Project, 2017.
The Mountain Legacy Project, based at the UVic School of Environmental Studies, has combined archival research, repeat photography, and analysis of these historical survey photographs and their modern repeats to assess landscape change in the Canadian Rocky Mountains. The project has unearthed a vast collection of systematic phototopographic survey images, maps, and other data dating back to the late 19th century from Library and Archives Canada, and have re-photographed thousands of images over the last 20 years.
This effort requires considerable computing resources, and in our digital age, an important question for all large-scale research projects is how to best preserve this mountain of data. The Mountain Legacy Project reached out to the University of Victoria Libraries for support with long-term storage and preservation of its collection of digital photographs. Due to the large file sizes of these high resolution images, the project was deemed a strong candidate to test out a new national data service called the Federated Research Data Repository, a collaboration between Compute Canada and the Canadian Association of Research Libraries.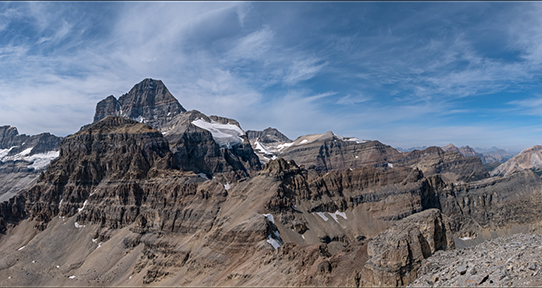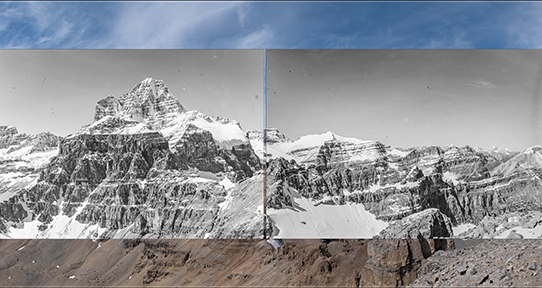 Looking at the eastern faces of Terrapin Peak (2,954 m) and Mt. Assiniboine (3,618 m) from the summit of The Towers (2,842 m). The inset black and white images were taken in 1916 by Arthur Wheeler as part of the Inter-provincial Boundary Survey to accurately set the border between BC and Alberta. Photos courtesy of The Mountain Legacy Project and Library and Archives Canada / Bibliothèque et Archives Canada. Click to see more historic images from this location.
The Federated Research Data Repository is designed to address a longstanding gap in Canada's research infrastructure by providing a single online platform from which research data can be stored, preserved and shared. The platform's federated search tool provides a focal point to discover and access Canadian research data, while the range of services provided by local curators help researchers store and manage their data, and preserve their research for future use.
With the deposit of the project data now completed, these unique and invaluable datasets will be securely stored and preserved for future use, and lessons learned throughout the process by the UVic community will provide valuable feedback to shape this national data service moving forward.