Collection increases access to arts and culture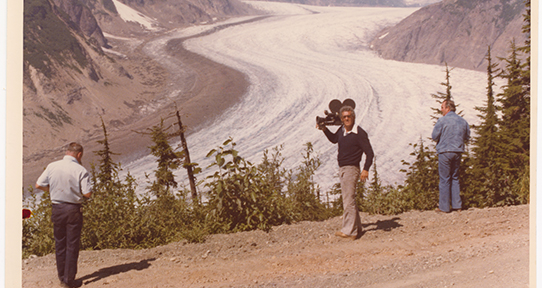 "Karl Spreitz location scouting for BC Film Commission above Salmon Glacier near Stewart, B.C." 
Undated
by: Lara Wilson, Director, Special Collections & University Archivist
Special Collections and University Archives is pleased to announce the availability of the Karl Spreitz Collection, via UVic Libraries' digital asset management platform, Vault.
Totalling over 200 items, the collection consists of documentary films, film outs, and commercial footage, sampling Spreitz' long career. Additionally, photographs, art works, textual records and objects from his archival fonds have been selectively digitized to provide additional context to Spreitz' life and works. The Libraries' digital collection compliments an earlier digital exhibit created by UVic's Legacy Galleries, entitled Karl Spreitz: Self-Propelled.
Spreitz was a documentary and experimental filmmaker, graphic artist, and photojournalist. Born in Gratz, Austria, in 1927, he taught himself filmmaking while assistant coach to the Women's Olympic Team of Austria. Spreitz immigrated to Canada in 1952; Spreitz along his wife Ina (Ine) Schäffer (later Mayer von Bojan) moved to Victoria in the late 1950s. He worked as a staff photographer for Beautiful British Columbia Magazine, and cameraperson for a number of television broadcasters, in addition to his work as a filmmaker. He was one of the original members of Victoria's Society of Limners, formed in 1971 by artist Maxwell Bates.
" This summer, when I was working on a publication dealing with the issue of emigration from Graz in the post-World War II period … I came across your wonderful Karl Spreitz Collection. So, I included a biographical sketch of Karl and Ine Spreitz in my article as an example of immigrants who came from Graz to Canada in the postwar period."

- researcher, Graz, Austria
Spreitz frequently worked with friends and fellow Limners for films and other projects: his collaborators in film included Colin Browne, Vicky Husband, Anne Mayhew, Michael Morris, and Herbert Siebner. He produced a significant amount of portraiture, notably in collaboration with artist Myfanwy Pavelić. While his most renowned films were cultural, historical, economic, and environmental documentaries, he also created artist spotlights for Limners members, worked in the experimental film genre, and produced numerous commercials throughout his career; he also collected commercials as part of his interest in the genre. His artworks are expressionist in form; through drawing, painting, photo-collage, and later through digital media, Spreitz explored the human figure in unique ways, often combining figures with geometric shapes or mechanical imagery. Spreitz died in Victoria on May 13, 2016 after a lifetime of contributions to contemporary art and documentary film in Western Canada.
Highlights from the digitized films include the tourism promotion "Salmon Premier" with Hollywood actor Glen Ford, a short montage documenting Queen Elizabeth and Prince Philip's visit to Victoria in 1959, and the experimental film "Shakespeare," produced to commemorate the 400th birthday of Shakespeare in 1964, with illustrations by Michael Morris, artist and a founder of Image Bank and the Western Front Society.
The project was funded through the British Columbia History Digitization Program of the Irving K. Barber Learning Centre, University of British Columbia Library. Sincere thanks to grant funded metadata assistant Katherine Holtz, Grants and Awards Librarian Christine Walde, Head of Metadata Dean Seeman, and University Librarian Jonathan Bengtson for their contributions to and support for the project.