An interview with Julie Paul, award-winning Victoria writer of fiction, non-fiction and poetry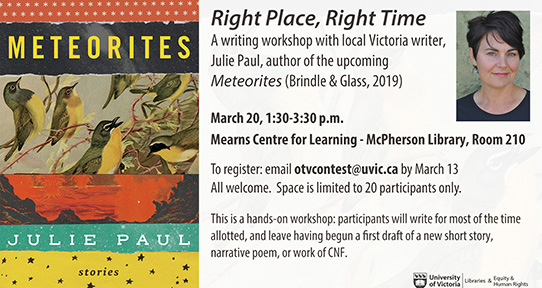 How did you come to writing?
I started writing around the age of 12, and when my poem won a Legion Remembrance Day writing contest, I was encouraged to keep putting my thoughts down on paper. I haven't really stopped writing since then.
What genre do you most enjoy writing?
That's a hard question. It depends on my mood, and the intent of the piece. I love the freedom of CNF, where anything seems possible, whether in form or subject matter. I enjoy the challenge of short fiction, its concision and intensity. But I'm also loving the room a novel allows. And poetry will always be where I turn when it's intensity of emotion I want most to convey. I will say that I definitely prefer first drafts to editing. I love the moment of creation, when anything is possible.
As a judge, what do you look for in a winning piece of writing?
As with anything I read, I hope to be transported elsewhere, or encouraged to feel something new, to be shown a familiar place or situation from a different vantage point. The winning pieces in this year's contest grabbed me from their very first words and held my attention completely, through fresh use of language or a strong dramatic hook or an intriguing premise. I'm still thinking about them now.
What are your hopes and fears for the future?
I hope that we, as a species, can turn away from what harms the planet in time for its survival and the survival of all species on it. I remain hopeful that people can change: we live in a world that is much more tolerant and inclusive than ever before, a world in which diversity, whether that's biodiversity or the human variation, is being championed more and more. I'm grateful for that, and try to keep my focus on the positive, otherwise I might not want to get up in the morning.
What are you currently working on?
Working on final proofs for my forthcoming story collection, Meteorites, out in June, and a fourth draft of a novel, plus some personal essays.
For more information about Julie Paul
For more information about the on The Verge Writing Contest