UVic student Linnet Chappelka gives voice to Holocaust story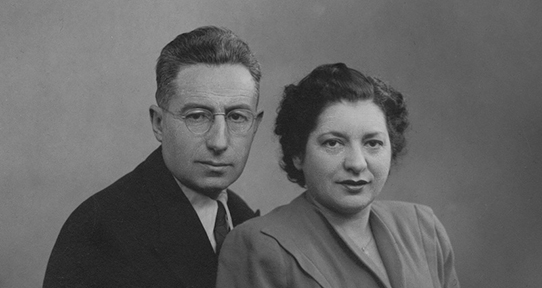 Mottel Menczer (z'l) and Regina (Dermer) Menczer (z'l)
Why did you choose this particular project, and what were your expectations before taking it on?

I worked on this project because I have an interest in the progression of the narrative of historical events, particularly at the individual level, so I was very eager to examine the lives and stories that make up this community, but aren't being told at the moment. Before taking it on, I didn't realize just how intense and personal it would be. At the onset, I thought there would be a barrier of academia between myself and my community partner, but it became a partnership that I think really worked on each others' strengths to create this really stunning project.

Did you choose who to be paired with? If so, what drew you to them?
We were introduced to all the community members in Dr. Thorson's course, and they told us a little bit about themselves and the stories they wanted to pursue. Dr. Thorson then asked us who we were interested in working with, and I was lucky enough to be partnered with Micha Menczer. I was drawn to him and his story because he wanted to focus on his parents and their experiences, and I was curious about the individual in the midst of these life changing and historic events. What really drew me in was Micha's desire to look at his parents' life before, during, and after the Holocaust.

In Holocaust Studies (as you mentioned) the focus is often on large scale-events. What was your takeaway on working with Micha's personal story on his parents? Do you think this individual approach should be embraced in the near future by Holocaust Studies?

Working with Micha's personal stories about his parents has just shown me how vital it is to focus on the individual amidst large scale and historic events. So often in learning about these events we are only told statistics of the number of people killed, but this makes it difficult to truly comprehend the human scale of these tragedies.
Therefore, looking at the individual is of the utmost importance to highlight that these people have had full and vibrant lives, and aren't just a number. My work with Micha on this project, in tandem with my work on the Every Name Counts Project from the Arolsen Archives highlights the magnitude of this loss, and encourages an accessible remembrance of them.
Have your career aspirations changed after this experience?

I wouldn't say that my career aspirations have changed from this experience, as much as my resolve has been strengthened. I want to provide remembrance and memorialization that provides the respect needed. This work with Micha has really given me insight into the impact of the individual, and how crucial it is to share and document the lives of people. Throughout my degree I have constantly questioned why the Holocaust is so studied, whereas other genocides such those in Armenia, Rwanda, Palestine, and of Ughyers in China have been largely forgotten or ignored. In the future I'd love to take my experience working with these personal stories and utilizing it to provide remembrance, documentation, and hopefully prevention of other genocides.

What did you learn from working with Micha that you'll take away for your personal/professional life?

Working with Micha on this project has been an absolutely amazing experience. I am so thankful to him for sharing with me so much of his personal history, and of his own experiences of the Holocaust. Often in my work it feels so isolated, and it's a struggle to see the importance of the work. Collaborating with Micha has shown me the effect my work can have. As Arundhati Roy said, "There's really no such thing as the 'voiceless.' There are only the deliberately silenced, or the preferably unheard." It is vital that I use the platform I have to bring attention to the lives, events, and injustices throughout the world. As Micha is an Indigenous and Aboriginal Rights lawyer, I was really thankful to have this perspective throughout our project and to consider how to address the current injustices in North America, and my role in addressing these issues in both my personal and private life— to amplify the voices fighting for justice.
Visit: Stories of the Holocaust: Local Memory and Transmission exhibit.
Interview questions by work study student Paula Raimondi Cantú.