UVic student Kästle Van Der Meer embraces creativity in Holocaust exhibit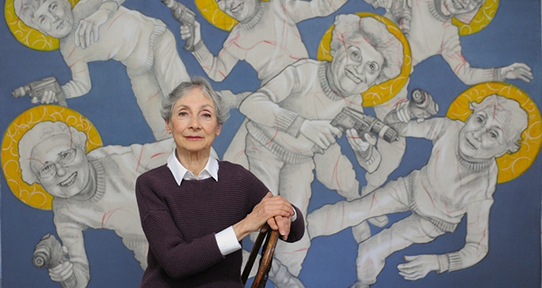 Hinda Avery
Why did you choose this particular project, and what were your expectations before taking it on?
The project was Dr. Helga Thorson's idea, and her goal in creating it was to give local survivors and their family members the opportunity to tell their story and have it preserved in a public forum. The project was also designed to show how memory transmission spans generations. For example, my partner Hinda did not experience the Holocaust directly, nor did her mother, but the trauma her mother experienced as a result of her family being murdered in the Holocaust was passed on to Hinda, who has lived with it her entire life. The project is really an example of just how extensive the legacy of the Holocaust is. It has impacted lives everywhere in the world, including right here in Victoria.
Initially, I wasn't quite sure what to expect from this project. It was my first opportunity to work side by side with the relative of a survivor, so I was very excited. At the same time, I was nervous about conveying their story, because telling your own story is easy, but it is a huge responsibility to speak about someone else's life using your own words.
Did you choose who to be paired with? If so, what drew you to them? 
To try to ensure a connection or some common ground between community partners and students, Helga let students choose which partner we wanted to be paired with. On the first day of class in January, the ten community partners joined the class Zoom meeting so that students could get a sense of the partners' stories and the partners could learn each student's reason for taking the course. When Hinda introduced herself that day, I was immediately drawn to her because she was so open about her feminist views. She is a former Women's Studies professor and I have a degree in Gender Studies, so I knew we were both passionate about equality. I was also impressed by how Hinda took up painting so late in her life and used it to explore her trauma. Most of all, I was drawn to Hinda's kind and positive energy, and I knew immediately that I wanted to work with her and learn more about her. 
The exhibit talks about Dr. Avery embracing art to process her trauma—why did she choose this medium over others (writing, photography, etc.), and how has her art informed her feminist views and vice versa?
I decided to call Hinda so that she could reply to this question herself. This is what she had to say:
The answer is so obvious. I can't write and I can't photograph. Really, I'm not a good writer and I'm not a good photographer, and for some reason I feel more confident using paint [and] painting, using visual arts. And who knows why. I don't come from a family of artists, but I always liked art and I always liked my art teachers in school. I mean, who knows why we do what we do. [But] I always have had some confidence dealing with the visual arts.

My feminist views came first and certainly informed my art because I attempted to depict women so that they appear strong and assertive and confident … the way I would like women to be. I'd like them to be assertive and have a good sense of self-esteem. That really comes from my feminist values. In my latest paintings the women were all physically strong and I made a concerted effort to make them look that way and that comes from my feminist views. And also, because I'm an older woman now, I'm so cognizant of what the media is doing to older women. I just can't get away from these horrible ads about wrinkle creams. And the other day… in one of these ads there were close ups of a woman's wrinkled skin in the before shot. And the wrinkles in this photograph were exactly the same as my wrinkles, you know, the same lines and shapes. So what the ad was saying is how ugly and horrible these things are and how you have to get rid of them…The worst part about it, when it comes to older women, and I'm speaking on behalf of myself and my friends, [is that] we all feel that we shouldn't have the wrinkles even though we all know that it's a bunch of baloney. We still have bought into it because it's such a powerful message. And so one of the reasons I painted older looking women is for that reason, [to show] that older women are not necessarily ugly. So, did my art inform my feminist views? I think my feminist views were there before. I guess I just felt that my art was one way that I could express my feminist views.
You can view the trailer for Hinda's latest film, which was featured at the Washington, D.C. JxJ festival in May.
Have your career aspirations changed after this experience?
My career aspirations haven't changed. If anything, this project reinforced my plans for the future. My MA thesis research focuses on sexualized violence in concentration camps during the Holocaust and how it was resisted by those who experienced it. Before the project, I thought that I might pursue this research further in a PhD program, and Hinda strongly encouraged me to do so. Eventually, I would like to work in Holocaust awareness education so that I can tell more stories like Hinda's and educate others about the importance of combatting hatred in all forms.
What did you learn from working with Hinda that you'll take away for your personal/professional life?
I learned to embrace creativity in my work with Hinda. I'm most comfortable expressing myself through writing, but Hinda taught me that some stories are best told through a visual medium. I think that her artwork and films are more powerful than an essay, so I want to think about how I can incorporate more visuals into my own work. Also, as I explain in the exhibit, I learned a lot about my own family through my work with Hinda. She pushed me to ask my grandpa about his life in Holland as a child during the war, which I probably would not have done if it weren't for her encouragement. In that sense, I learned to confront the unknown and be prepared for any kind of answer.
Visit: Stories of the Holocaust: Local Memory and Transmission exhibit.
Interview questions by work study student Paula Raimondi Cantú.