Rare Books and Rare Generosity: An interview with Gordon Fulton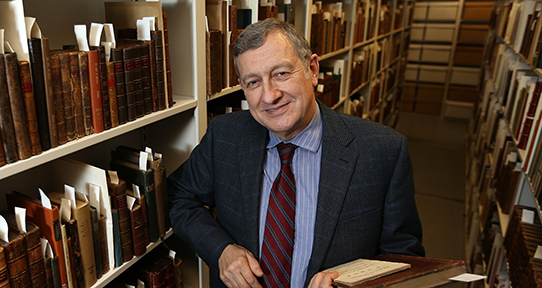 "My wonderfully eccentric colleague, Dr. Gordon Fulton, has been quietly collecting significant numbers of rare, odd, and often extremely valuable books, and then, just as quietly, donating them piecemeal to the Special Collections of our university library here at the University of Victoria. 
Gordon, who grew up in south-central Ontario, has been a member of the English Department at UVic since 1990, where he specializes in 18th century literature. He studied at the University of Toronto and then at the University of London.
I was lucky enough to get a few words from my colleague about his bibliophilic passion before he once more dematerialized."  - G. Kim Blank, UVic Professor of English
KB:  What have you collected—and why?
GF:  I have collected antiquarian books in French and in English largely in the fields of literature, history, and religious studies.  It may sound surprising, but one reason I have collected them is that they are available and I can afford them, something that I did not suspect until about ten years ago.  
One of my special interests is books by women. More to the point, it is possible to buy important books by women (e.g., seventeenth-century folio volumes by Katherine Philips) for much less than major books by men (e.g., seventeenth-century folio volumes by William Shakespeare) would cost.  Anyone who thinks this comparison is ludicrous deserves a good scolding, but I won't be scolding them, because the longer this attitude persists the longer I will be able to afford to collect in this area. 
I must say in general terms that as a donor to the McPherson Library I have been inspired by all previous donors. No generous act ends in itself.
KB:  How many volumes have you collected?
GF:  More than one thousand volumes from before 1800, and the range of them is a good example of what might be called "mission creep." I began buying books from the eighteenth century, but before long I succumbed to the siren song of the seventeenth century.  Books survive from the sixteenth century to remind us that we cannot afford incunables, which are books published up to 1500.
KB:  How do you decide upon what to buy?
GF:  I look to see what is available and make note of books that interest me.  Sometimes this is just tourism, sometimes something more.  In addition to my own interests, I have also bought books that relate to the interests of other UVic scholars past and present.  Affordability is a consideration, but I think of Andrew James Bell at Victoria College in the University of Toronto and of Walter Benjamin's account (in Illuminations) of his purchase of a rare children's book and remember that affordability is a relative matter. As a British Columbian, of course, I still insist that we can't afford Expo [86], the Couqihalla highway, fast ferries, or the Winter Olympics in Vancouver.
KB:  How many have you thus far donated to UVic?
GF:  Perhaps between seven and eight hundred, but that's just a guess.  I have also donated a fair number of modern and contemporary books.
KB:  Where do you find most of the books?
GF:  Every week I search the listings of books before 1800 on Ebay.ca and Ebay.co.uk, and the listings of books before 1700 on Ebay.fr. When I find a book of interest and it is English or of English provenance, I look it up in the ESTC (English Short Title Catalogue) to check the bibliographic description and the number and locations of copies reported. If I am still interested, I will look in ABEBOOKS to see if there are copies of the book for sale and what dealers want for them. 
With books in French I have no such comprehensive catalogue and so check ABEBOOKS. A book I have never bought an old copy of says truly that they order these things differently in France.
KB:  What is your most eccentric or odd purchase?
GF:  I've purchased some items that illustrate re-uses of velum.  One of these is a ledger kept by a French farmer for a few years after 1815 listing the people to whom he has sold pigs and the prices he received for them (mostly one franc).  If anyone is interested in the price of post-Napoleonic pork, this might be a useful source.
KB:  What is your most interesting purchase?
GF: There are many, but for the circumstances in which I purchased it, one of my favourites is a small book that includes the first edition of a poem by Andrew Marvell that speaks of beholding a blind poet telling the world what he thinks of it – and this copy has a frontispiece portrait of the poet.
This book was listed for a week or ten days on Ebay but no one bid on the opening price, so the seller offered it for a week longer at a somewhat lower "Buy It Now" price. I looked every day to see if it had sold – and it had not – until, when I checked on the last day of the listing, the seller had dropped the price by 25% and I bought it immediately. The date was around April 9, 2008 (I would say it was that day, but that's the date of Vimy Ridge and this might be confusing me) and that was one of the days when world financial markets tanked spectacularly as part of the events that brought about what we still call the financial crisis. I purchased this book in the morning, so it seemed to me significant that the seller was in London, England.  The London market opens five hours before the one in New York, so it had had more time to fall and (I like to think) concentrate the seller's mind.
KB:  What is the oldest book you have managed to collect?
GF:  I won't disclose the title, and it's not quite complete, but there is enough to tell that it was published in 1486. That's hardly the 1460s, but think for a minute: this volume is older than the settler-built environment on Vancouver Island, and it's older than most of the trees that we see from day to day in Victoria.
KB:  And possibly the most valuable book you've collected?
GF:  The value varies and it depends a lot on context. I know mostly what these books have cost, and what they turn out to be worth will be established by others. If I may suggest one single criterion of value it would be this: in the McPherson Library, I would consider that book most valuable that first inspires a student reading it with a passion for rare books and for what can be learned from them.
KB:  Any books with a special provenance?
GF:  Now for something completely different. My favourite book with a special provenance was published in 1970, and it shows that you do not have to have a lot of money to collect some interesting books. 
It's an Oxford University Press paperback copy of T. O. Lloyd's Empire to Welfare State: English History 1906-1967, which I bought secondhand in 1988 in the Oxfam store in Cambridge for what was then (considering the setting) the rather high price of £2.95 – the book cost £1.25 new and had been resold (my memory of bookseller's hands is decaying, but it might be a Thornton's price) for 80p. I did consider that some marginal annotations possibly added value, and I am deeply grateful to the people of Ontario for subsequently increasing that (possible) value. 
Professor Lloyd taught History at the University of Toronto, and the purchaser of the book who had left his marks on it, a U of T graduate, wrote in it marginal annotations that nicely express generational, and perhaps political, differences between author and reader. The most interesting of these (all but illegible) comments suggest an emerging feminist sensibility. Fortunately, although I have not discussed this volume with the annotator, I have been able to discuss it with his wife – "Yes, that's his writing – he still writes that way" – who she told me that she knew him before he purchased the book and who (I speculate) may have helped to form this proto-feminist virtue, not just reward it. (The Rhodes Trust would insist I mention that the annotator was still single and living some distance from this woman when he made the annotations.) The half-title page bears the signature, "Robert Rae Balliol College.  1971."
KB:  Are there books that you particularly enjoy collecting?
GF:  Copies of books by English Department colleagues past and present available at low prices in secondhand bookstores in Victoria, especially copies presented to other English Department colleagues past and present.
KB:  Are there any books or writers you do not collect?
GF:  The Bible, Shakespeare, Nostradamus.
KB:  Do you have any particular fears as a book collector?
GF:  That I wake up one morning and find the scarce copies of eighteenth-century novels in poor to fair condition that I have looked forward to reading have been transformed into mint condition with complete original dust jackets, signed first editions of Tolkien, inscribed at length and presented to other members of the Inklings. Such books would be too valuable for me to risk even touching, let alone reading them.
KB:  Do you have any collecting or donating plans?
GF:  I've collected as a gourmand and would like to collect as a gourmet – adding only books of more intrinsic worth and ones that will enhance what I have already collected. When book collectors talk among themselves about old books they have bought, the question "How much did you pay for it?" tends to drive the discussion, with the prize going to the obviously most valuable book purchased for the smallest amount of money. But when scholars go to a library, the question is not so much "What did you pay for it?" as it is "What have you got?" 
I would like to do what I can to make the question "What have you got?" a question asked more and more often in Special Collections in the McPherson Library, and I would like there to be more and more interesting answers.  This goal is not exactly "marmoream relinquit," but it does fit a statement that has impressed me since it was the motto of Expo 67: "To be human is to feel that when setting one's stone in place one has contributed to the betterment of the world."