UVic Libraries Acquires Archives of Acclaimed Local Author Eve Joseph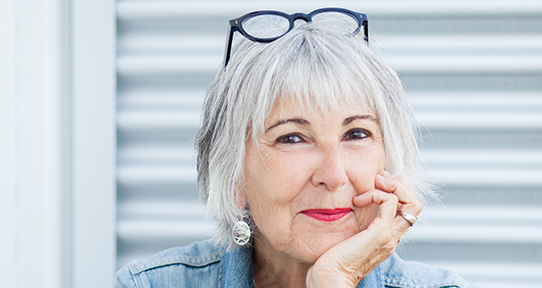 photo credit: Belle White
by Heather Dean, Associate Director, Special Collections
In December 2019, just before our world shifted dramatically due to the COVID-19 pandemic, UVic Libraries acquired the archives of noted Victoria writer Eve Joseph.  UVic Libraries is pleased to announce the Eve Joseph archives are now open for research and scholarship. 
Joseph, a poet and author, has published several poetry volumes, including Quarrels (2019), which won the 2019 Griffin Poetry Prize. Her other poetry collections include The Startled Heart (2004) and The Secret Signature of Things (2010), both of which were nominated for the Dorothy Livesay Award. She was awarded the P.K. Page Founder's Award for poetry in 2010.
In addition to poetry, Joseph published In the Slender Margin (2015), a memoir exploring death and grief. Her poetry and creative non-fiction have appeared in a number of anthologies and collections.  Her creative nonfiction story "Intimate Strangers," published in The Malahat Review (2010), was nominated for a National Magazine Award and won both The Malahat Review's Nonfiction Award and the Western Magazine Awards "Gold" category for the B.C. and Yukon Territories. 
The Eve Joseph archives provides insight into her creative process, visible in drafts and research files for her four books, as well as prose essays and unpublished poetry. Researchers will also find materials relating to a writerly life, such as acceptance and rejection letters, writer's festivals, correspondence, and publicity materials.  Unexpectedly the archives also include the large panels with Joseph's poetry displayed in buses as part of the Poetry in Transit initiative.    
In the following interview, Eve Joseph kindly responds to questions regarding her archives (current and future) and writing practice. The Eve Joseph archives are available for consultation at Special Collections and University Archives at UVic Libraries.
Your archives arrived at UVic just before the COVID-19 pandemic. What has your experience been over the past 18 months?   
I think it's going to take some time before any of us understand what this past 18 months has meant for our own lives, our families and the larger communities within which we live. I had a sense, at the beginning of the pandemic, of just managing to stay one step ahead as doors slammed shut behind me. I don't know how I feel about those same doors opening again. The world feels different to me, and I feel different in it. I liked the slowing down, the forced solitude. I am also very aware that I was fortunate to have had food, shelter, companionship and lots of good books during that time!
The pandemic rendered us all a kind of captive audience. The horror of George Floyd's murder and the conversations around institutionalized racism and defunding the police occurred when the world was watching. I have written very little during this time. While solitude and isolation both imply being alone, I found the isolation imposed by COVID-19 was not conducive to writing for me. It's funny because I think there was a misconception "out there" that writers would thrive during this time. With all that was going on in the world I felt too occupied to find the kind of emptiness I need in order to create.
How does your archives reflect your writing process? Is your process different when writing poetry and nonfiction?
I think the piece of archival material that probably best reflects my writing process is the 500 or so page document called "Entries and Observations." I have a very active editor sitting on my shoulders, and in order to get away from this voice that causes me to edit each line almost immediately I created a running document where the editor was barred. I could begin things in this document without having to shape them in any way. With the exception of "The Startled Heart," published in 2004, all of my books started in this file. Once a piece felt like it had some substance, I would remove that entry and work on it in another document. For example, when I was working on the prose poems that would eventually become the collection "Quarrels," I would begin a piece in Entries and then move it to the working copy of the manuscript. In some ways it seems like a crazy way to do things, but I swear I feel more psychologically free in the file where I can write really bad stuff without wanting to immediately discard it.
I would say the main difference between writing poetry and nonfiction for me is a question of space. My poetry is quite spare. I don't try to write this way; it is simply how I write poetry. There is an economy to language – to finding exactly the right word – that shapes the poetry I write. One of the joys of writing nonfiction is how the genre encourages me to follow thinking as far as I can. To reach an end and then to keep going. I think the rhythms of prose are conducive to storytelling in a way that the rhythms of poetry (for me) are not. Don McKay once told me my poetry was spare, like a bird jumping from branch to branch. Sometimes, he said, it's good to be a dog snuffling in the wet leaves. Prose is my version of dog-snuffling.
Along with their published works, authors' legacies can also be shaped by their archives. What would you want to tell future readers of your archives?  
I think of my archives as a messy room. You will learn more about me, and my writing process, by entering this room than you will by simply reading the finished works. There is a "lived in" quality to an archive that can have a slightly voyeuristic feel. The artifacts themselves, when taken as a whole, tell their own story. I have been putting things in boxes since I started publishing… notes, drafts of manuscripts, awards, emails, letters, early journals, ticket stubs, plane tickets, photographs, mementos.
If anything, I would tell a future reader of my archives to make themselves at home in the messy room and to not be afraid to just lounge there for a while!
What might you include in your archives in the future?
I like the idea of broadening my ideas about what an archive can hold. I think I may pay more attention to physical objects… things that leave a paper trail of sorts. Things as ordinary as the grocery lists I make before going away on retreat, the bar bill at the Sylvia Hotel where I go to write when I can, a photo perhaps of the writing desk at Robert's Creek, and the view of the ocean that the window looks out on. I'm not a famous artist. I am fully aware that these things may never be seen by anyone but still they are evidence of a life lived. In our early years together my husband, the poet and playwright, Patrick Friesen, and I wrote over 500 letters to each other. Those letters, many about writing and seeing, are in a box in our crawlspace. Perhaps some of these will find their way into our archives. I'm not sure yet.
What does your writing space look like?  
A few years ago we moved from a large, family home on the rural outskirts of Victoria to a townhouse in the city on the working harbour – tugs navigate barges along the Selkirk waterway just metres from our backyard. There is always something to contemplate – from kayakers to canoeists, dragon boats to all kinds of marine life. Yesterday, Patrick watched an eagle pluck a seagull out of the air midflight. It is never boring! However, being that our place is small, we have had to come up with creative ways to use space. My writing desk is in an alcove in our bedroom. I will often start a piece on one of our two balconies and then retire to my desk to work more intensely. I also tend to go away to write in order to have the kind of solitude that allows something to surface. I have a silkscreen print of a lotus flower by my nephew, the indigenous artist Dylan Thomas, on the wall in front of my desk and a tall, narrow bookcase to the left with books that I consider essential companions. On my desk are a small pewter lighter etched with horses that I picked up in Japan in the early 70s when I worked on freighters, an ivory-coloured ptarmigan my mother gave me following a serious car accident when I was 16, and a rock from my granddaughter. Three flies, hand-tied by my late brother, are hooked into my desk lamp.  
While you began writing poetry early in your life, you have also had different careers alongside your writing practice. What advice do you have for writers balancing their creative life with other obligations? 
It's interesting because, in some ways, once you find your creative life – the artform that seizes your imagination – it feels as if the drive to create is almost involuntary. You find ways to pursue it regardless of other obligations. I was a single mom when I returned to poetry after a thirty-year pause. What I found was that poetry influenced my "gaze" and how I saw the work, and my working life became fodder for my creative life. I would write "between" the kinds of daily obligations that we all face. Sometimes that meant keeping journals and jotting down notes when I couldn't sit for extended periods of time. I think once you find something that feeds you, that returns you to your authentic self, then this informs all of your life. A creative life, to me, is a way of seeing. I was lucky that my kids were not toddlers… that would have been a much trickier proposition!
What projects are you working on now?  
I just finished an essay on what it was like to come to writing later in life and I have some prose poems that I want to return to.