Erase your library fines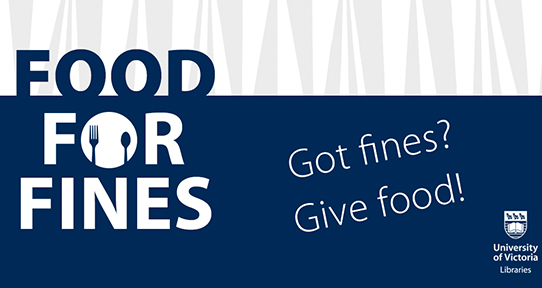 Food banks become an essential lifeline for so many in need. The annual Food for Fines campaign by UVic Libraries offers relief from library fines in exchange for non-perishable food items, which are then donated to the Mustard Seed Food Bank and the UVic Students' Society Food Bank & Free Store. Items most needed include rice, pasta, baby food, peanut butter, canned beans and fish, as well as toothbrushes, toothpaste and soap.
Fines will be discounted by $3 for every non-perishable food item or personal item (up to a maximum of $20). Library users may also pay for their fines (up to $20) as a donation to Mustard Seed.
For more info
What: Food for Fines – UVic Libraries
When: April 1 until April 21
Where: Donations can be brought to the Mearns Centre for Learning – McPherson Library and/or the Diana M. Priestly Law Library (Fraser Building). Hours/locations