Faculty Success with Sowmya Somanath: Creating digital artifacts with library solutions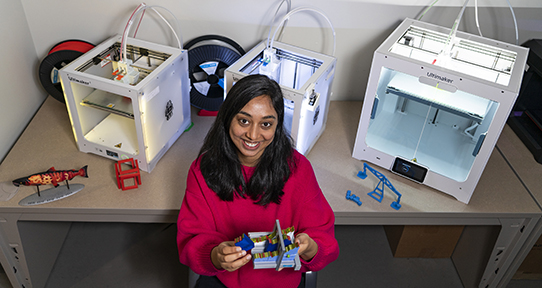 UVic Libraries is pleased to celebrate faculty success with a series of interviews featuring researchers and their recent collaborative projects
Sowmya Somanath is an Assistant Professor in the Computer Science Department at UVic.  As the lead of the Creative Experience Lab and co-lead of the VIXI group, Sowmya's research focuses on studying, designing and evaluating computational systems that help people create digital and physical artifacts using electronics, fabrication devices, and virtual reality platforms.  She teaches a cross-listed course related to her research called "Designing Creativity Support Tools" and recently collaborated with the UVic Digital Scholarship Commons (DSC).
UVic Libraries have developed custom 3D design and printing workshops to help Sowmya's upper level students plan and fabricate 3D prototypes that can support creative ways of interacting with data in a tangible and physical manner. At UVic Libraries we love to help students gain practical experience with technologies that can support their learning and career goals. Read more about 3D printing services at UVic Libraries.
What is your favorite place in UVic Libraries and why?
I've spent most of my time at UVic during the pandemic so unfortunately have not yet found my favorite spot, but I do like these corridors of books with windows overlooking the trees of the Quad.
What is your favorite LC subclass (the first two letters at the beginning of a call number range) and why?
I love the physicality of library spaces and enjoy finding a book on a shelf, but the books I've borrowed so far are digital, and I don't know the LC subclass of these resources.
What is the most exciting or interesting experience that you've ever had in a library or archive?
My interaction with the DSC this term was amazing! My course, "Designing Creativity Support Tools", has many moving parts and requires students to create three mini projects that involve the use of programmable hardware, physical objects, and materials. In my attempt to build an ecosystem of available resources to students, I was pleasantly surprised to learn that the DSC could help with many aspects. Thanks to the DSC, students could borrow hardware from the library without having to purchase the materials, as well as work on their 3D printing assignment by accessing the DSC printers!
Is there anything else that you'd like to tell us?
I think it's really great that we have a resource like the DSC at UVic which makes it possible for us to include contemporary activities such as digital fabrication and prototyping as part of our advanced courses. I very much look forward to continuing my association with the DSC for my course offerings!
Celebrate the success of UVic faculty: read more.