Faculty Success with Andrea Walsh: Sharing our knowledge and humanity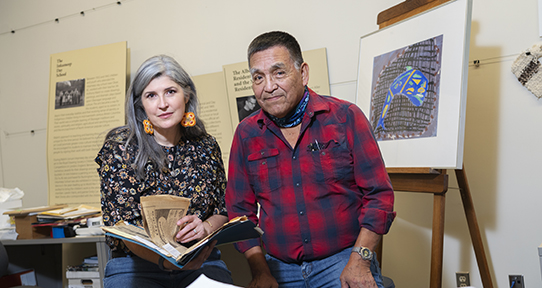 UVic Libraries is pleased to celebrate faculty success with a series of interviews featuring researchers and their recent collaborative projects
UVic Anthropologist, Andrea Walsh, is working with UVic Libraries to openly publish two graphic novels that will be collaboratively produced with Survivors of the residential and day school system and their families. One novel will focus on the Alberni IRS (set in the late 1950s) and the other will focus on the Inkameep Day School (set at the outset of WWII). Both novels will tell stories through the eyes of the children who attended them, and who created the artwork that have come to national attention through Andrea's current work with the Truth and Reconciliation Commission of Canada. UVic Libraries is honoured to help Andrea to share her work with community members, policy makers, and social justice organizations across Canada, and around the globe.
What is your favorite place in UVic Libraries and why?
My favourite place in the library is the Legacy Maltwood Gallery. On a scholarly note, I am drawn to the potential of the space to suture ideas about the way we work with collections through the university's art gallery and our library. I think that having an exhibition space in the library building facilitates dialogue about art as a form of knowledge production. On a personal note, I enjoy the fact that the space is dynamic. The exhibitions change regularly, and I look forward to being surprised, humoured, challenged, or enlightened by the temporary exhibitions.
What is your favorite LC subclass (the first two letters at the beginning of a call number range) and why?  
I hover between G, H, and N!! As an interdisciplinary scholar trained in Visual Arts, working as a visual anthropologist and curator in Anthropology, I get a workout in skipping up and down the stairs of the mezzanine!
What is the most exciting or interesting experience that you've ever had in a library or archive?
Without a doubt, my most exciting and memorable moment I associate with our library was on a night this past summer, when a group of us were gathered to work on the illumination of the library building in the colour orange after the discovery of the 215+ children at site of the former Kamloops Indian Residential School. It was a significant moment for me as a faculty member and alumni of UVic to see this action that indicated respect, recognition, and commitment to reconciliation.
The library is a place through which all our knowledge can flow at the university – it is the most interdisciplinary space on campus, and it can be the anchor of what we know about human rights, and what we do to promote, ensure, and respect them. I think that our library is the place where regardless of our personal/professional focus on learning, we can share our knowledge, and our humanity.
Celebrate the success of UVic faculty: read more.