Ravensbrück Visual Storytelling Colloquium and Workshop
by: Matt Huculak, Digital Scholarship Librarian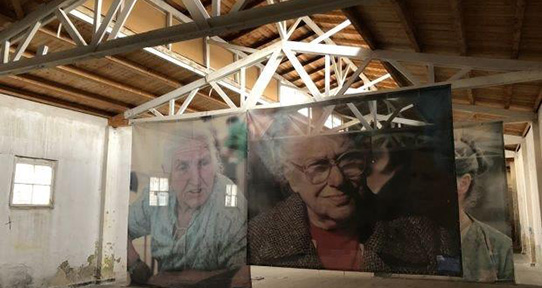 Art installation in the former textile factory highlighting the stories of camp survivors.
In 2012, the University of Victoria Libraries became one of the first libraries in North America—perhaps even the world—to hire a "Grants & Awards Librarian." Christine Walde, an author, artist, and librarian extraordinaire, was hired to work with the UVic community in order to help faculty & students work through the long-term preservation and accessibility requirements of publicly funded research. Little did I know when I was hired as Digital Scholarship Librarian that her work would have such a profound effect on my own work and engagement with the world.
One of the things I love about my job is I never know who is going to walk through my door looking for a partner in collaboration. Last year, Dr. Charlotte Schallié of German and Slavic Studies, asked if we could collaborate with her in putting together a small grant as part of the Holocaust Studies stream in the Humanities. The "Ravensbrück Visual Storytelling Colloquium and Workshop" grant would give UVic students an opportunity to live at the Ravensbrück Nazi Concentration Camp Memorial and Interpretation site and work with fellow students from around the world—including Germany, Israel, and the United States—to develop ideas around the teaching of the Holocaust to new generations through graphic novels and to learn how to create graphic novels themselves.
The Ravensbrück Nazi concentration camp was built in 1939 specifically to house women prisoners of the Nazi regime. It was a site of terror, of medical experiments, of forced labour, and it was the destination of the death marches from Auschwitz and Birkenau when the Soviets began to liberate death camps towards the end of the war.  Today, it stands as a witness, a place of memory and resistance, and a place to honour those who were imprisoned there.
Charlotte warned us before we left that visiting such sites has a profound effect on one's self, but I didn't realize how deep and life-changing it would be, and what an honour and privilege it would be to learn about the lives of the women who once lived there. One aspect of camp life that I was ignorant of was how prisoners used art to retain their humanity in inhumane situations. Many women at Ravensbrück risked their lives to smuggle paper, pens, and pencils out of the homes of guards, so they could draw both creative work as well as images that documented their treatment at the camp. They formed communities of support and friendship with those they could trust, and even in the darkest hours of the night, found ways of expressing themselves through art.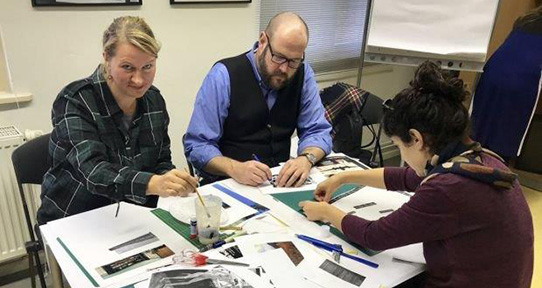 Huculak and workshop attendees making collages during the "Making a Graphic Novel" 
workshop.
For a week we lived at the memorial site and learned about the history of the place and the lives of the people who lived there. We attended workshops by graphic novelists to learn about the genre and create our own work based on our experiences there. A growing concern in the community is that as survivors pass away, how can newer generations keep alive their memories and stories; we were given the opportunity to learn about the graphic novel form to tell the stories that need to be remembered.
But in the era of the digital revolution, we face great challenges preserving the work created on computers. A piece of paper might be found decades—even centuries—after it has been created. But now we have trouble reading files from just a decade ago. Vint Cerf, a founder of the Internet, warns of the "digital dark age."  To read a file from 2008, for example, you need three things to read it: the file itself, the software to open that file, and a computer that can run the software to open the file.
My privilege as a librarian at the colloquium was to work with students and faculty to understand how to preserve objects in the digital age—including the graphic novel artwork they were producing. Because I was made a part of the grant and was able to attend the colloquium in Germany, I gained first-hand knowledge of the needs of the Holocaust Studies community as they fight against time to preserve the stories and objects in our history.
The University of Victoria Libraries hosts an exhibition platform called "Omeka," which allows students, faculty, and community members to use to preserve digital information and tell stories about that information. We used this platform at Ravensbrück to teach folks how to think about digital information for long-term preservation and accessibility, because some stories are too important to lose to time.
I still have nightmares about that camp. I'm told this is normal for those in the field, but I'm honored to have the company of a new community of friends and colleagues with whom I now share a renewed drive to petition for the dignity of people everywhere. The University of Victoria, the wider community, and Canada as a whole can be proud of our students and faculty, who are working tirelessly to tell the stories of those who came before us, so that we can be a better community together, today. It is an honour to be in a profession that seeks to make that work available for the future.