Celebrating Typographer and Designer Elizabeth Friedlander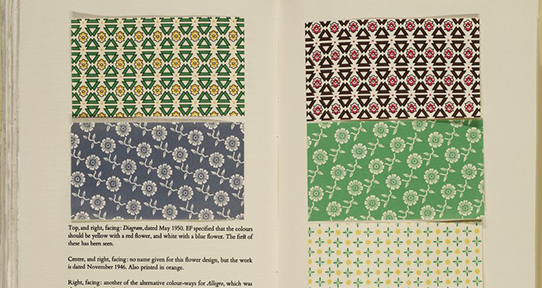 Samples of patterned papers designed by Friedlander for Curwen Press featured in New Borders: 
The Working Life of Elizabeth Friedlander (Oldham, England: Incline Press, 1998).
by: Lauren Elle DeGaine, UVic graduate student (Department of English)

While the name Elizabeth Friedlander may be unfamiliar today, it is likely many readers will have encountered her designs, which were influential in British book production over the course of the 20th century. A talented calligrapher, typographer, and graphic designer, Elizabeth Friedlander (1903-1984) designed borders for Monotype and Linotype, Penguin Books, and pattern papers for the Curwen Press, which can be found on many bookshelves.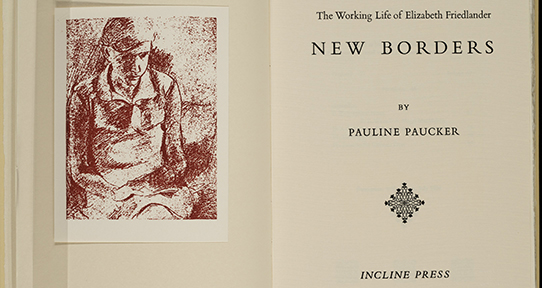 Title page for New Borders: The Working Life of Elizabeth Friedlander (Oldham, England: Incline Press, 1998).
Pauline Paucker provides rich insight into Friedlander's creative work in her volume New Borders: The Working Life of Elizabeth Friedlander, a private press edition printed by Graham Moss of Incline Press (Oldham, England). With the kind permission of the author and publisher, the University of Victoria Libraries is pleased to provide online access to an open-access edition of this book, representing a unique collaboration between a private press and a university library.
In New Borders, Paucker tells the story of a resilient, independent, artistic woman who survived exile and discrimination, and left her trace on the landscape of 20th century design and book-making.
Friedlander came from a cultured, affluent German-Jewish family and was a talented artist and musician who studied typography and calligraphy at the Berlin Academy under Emil Rudolf Weiss. The rise of Nazism in Germany forced Friedlander to flee from Berlin to Milan, Italy, and then London, England. Ironically, the German company Bauersche Giesserei (Bauer Type Foundry) issued her typeface, Elizabeth, in 1938, just two years after she fled her home in Berlin. By the time Elizabeth was issued, the typeface was 10 years in the making. The design was named Elizabeth—despite the usual custom of naming a typeface with the designer's surname—in order to conceal the artist's ethnicity.
While living in Milan, Friedlander worked as a designer for the publishing house Mondadori. When Italy passed its Racial Laws in 1938, Friedlander sought to resettle in America with a guarantee of work from the vice-president of Random House. Unfortunately, there were long wait times on U.S. visas for refugees from Germany. Instead, in February of 1939, she received a visa for domestic service work in England, where she settled in London and began working as a maid in a private house.
However, Friedlander restarted her career as a designer in London with the help of typographer and publisher Sir Francis Meynell, who hired her to work in the art department of the ad agency Mather and Crowther. In the summer of 1942 she was hired by Ellic Howe to create "black propaganda"—fake Nazi documents, such as stamps, ration books, astronomical pamphlets, and other documents—for the British war effort. After the war, Friedlander decided to stay in England, where she began working in earnest as a freelance designer after the black propaganda unit was disbanded. In 1948 she received an invitation from Jan Tschichold to design covers for Penguin Books. Her work for Penguin from the late 1940s into the 1960s included patterned covers for the Penguin Music Scores, Penguin Poets series, the American Pelican Shakespeare, cover ornaments for the Penguin Classics series, and lettering for the Pelican History of Art Series.
In the early 60s, Friedlander immigrated to Kinsale, Ireland, where she shifted her focus from freelance design work to craft-making. Friedlander passed away in Ireland in 1984. The Elizabeth Friedlander Archival Collection at the University College Cork Library now holds her working papers.
Friedlander's story brings attention to the many hands involved in producing books. Creating a digital edition similarly required collaboration, including Graham Moss (Incline Press), author Pauline Paucker, Lauren Elle DeGaine (Department of English, UVic), and staff across UVic Libraries, including the Digitization Centre, Metadata Unit, and Special Collections and University Archives. Those interested in learning more about Friedlander's life and career can view this new digital edition, as well as a short animated film, Elizabeth-Antiqua, by artist Pixie Kolesa.