In memoriam: David Harris Flaherty (1940-2022)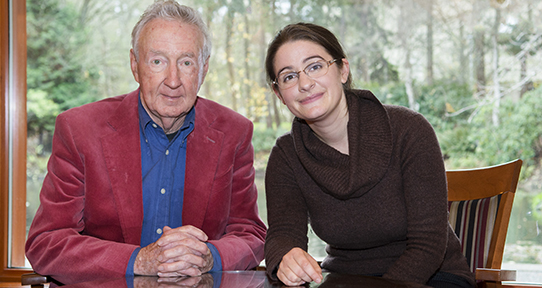 David Harris Flaherty and student Elizabeth Gerow (2015).
by: Christine Walde, Grants and Awards Librarian
We were saddened in the Libraries by the recent passing of David Harris Flaherty, a cherished friend, donor, and sponsor of the David Harris Flaherty Undergraduate Student Library Scholarship, an annual student award at UVic Libraries that recognizes student academic excellence using library resources.
The first time I met David was in 2015 at the University Club, when I was invited to celebrate his newly-established scholarship at a luncheon with Jonathan Bengtson, the University Librarian, and its inaugural recipient, Elizabeth Gerow. I wasn't sure what to expect, but he was charming, erudite, and with a quick wit and a fierce intelligence – all characteristics of what might be expected from a man with a distinguished academic career and who was the first privacy and information commissioner of British Columbia. As a long-time board member and president of, and donor to Pacific Opera Victoria, he was suitably delighted by the first recipient of his scholarship: Gerow was a student in the Bachelor of Music program, specializing in Vocal Performance, and had used library resources – including DVDs and LPs of Evgeni Onegin – for her Opera History class.
The hour flew by as we all talked effortlessly about libraries, art, music, opera – and at the end of the luncheon David gave Elizabeth his business card, encouraging her to contact him regarding future opportunities with the opera. It is this spirit of generosity I remember about him; one that I continued to witness in the successive years that I attended the annual luncheons. Whether it was students from Fine Arts, Child and Youth Care, or Humanities, David was attentive and curious to each recipient of his endowed scholarship, eager to learn about them and their experience and their learning. During the course of the luncheon – and which, if I recall correctly, he would always order the fish and chips – he would share the growing audience of scholarship recipients with a story or two about his tenure at Columbia, Princeton, or Western, along with some profound, sage reflections about his time in government or as a private consultant, regaling us with anecdotes of working in the Victoria arts community, or sharing his passion for his personal art collection. He was wise in the ways that a man of his stature could be, as both a mentor and a philanthropist, and with a sly sense of humour that befitted his personality.
Since its establishment in 2014, and with the addition of our 2022 recipients, the David Harris Flaherty Undergraduate Student Library Scholarship has recognized and awarded 15 outstanding undergraduate UVic students. UVic Libraries is grateful for David's continuing legacy and gift to our students, and for recognizing the Libraries as essential partners in student success at the university. His presence at this year's luncheon, and in future years to come, will be greatly missed though his legacy will live on in the much-needed support of students.
Read more about the life of David Harris Flaherty and his UVic Libraries' scholarship.