Wood engravings added to library collection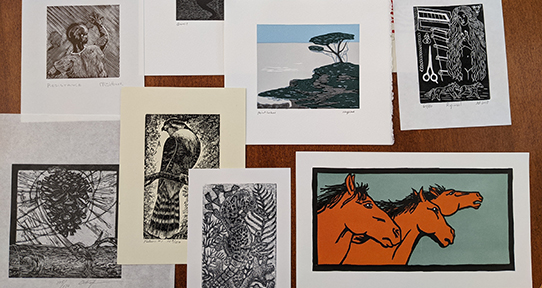 A selection of wood engravings given to UVic Libraries by Dr. David Bond.



by: Heather Dean, Associate Director, Special Collections
Through the generosity of Dr. David Bond, UVic Libraries' Special Collections is enhancing its collection of wood engravings. This unique printmaking technique uses relief printing and involves an artist carving an image or text into the end of a block of wood, referred to as the end grain. UVic Libraries anticipates this collection will benefit students, faculty, and community members with an interest in incorporating this technique into their artistic practice, and studying the relationship between illustrations and the written word, among other topics.
While Dr. Bond acquired his first wood engraving (a portrait of Martin Luther King drawn by Ben Shahn and engraved by Stephan Martin) in 1965, he began collecting seriously in the 1990s. At this time Dr. Bond became acquainted with Crispin and Jan Elsted, proprietors of the Barbarian Press, a fine press located in Mission, British Columbia. It is one thing to carve a wood engraving, but it is another thing to print it, applying the correct amount of ink, and the right degree of pressure to the press, among other factors. Jan is well known for printing wood engravings, and her expertise is visible in the Barbarian Press's Endgrain Editions, books dedicated to wood engraving.
With a focus on historical and contemporary book arts, Special Collections welcomes this new addition to the collection, including a more comprehensive representation of books printed by Barbarian Press as well as a significant reference collection providing contextual information on wood engravers. Dr. Bond is committed to carefully expanding the collection to inspire future artists, and emerging scholars drawn to this unique art form.
Introduced at the close of the 18th century, wood engraving vastly expanded the ability to produce illustrations alongside print, as well as individual prints with their own artistic merit. Among artists well-known for their early work in this medium are Thomas Bewick (1753-1828), Gustave Doré (1832-1883), and Gwendolen Raverat (1885-1957) as well as more contemporary artists such as Canadian artists Gerard Brender à Brandis and Wesley W. Bates, and English artists Simon Brett, Andy English, and Hilary Paynter. Over time the collection at UVic Libraries will expand to include representations of artwork from these and a number of other noted wood engravers.