Learning many languages guides Librarian Tad Suzuki in his practice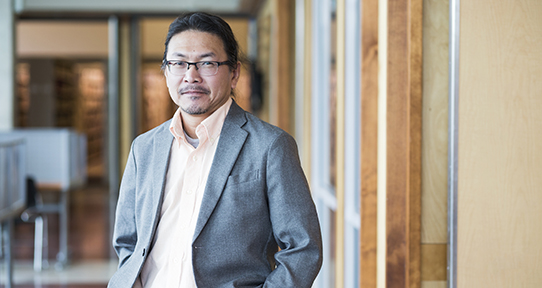 The most amazing thing that I learned about you is that you are a flawless self-taught acrylic artist. Do you still paint and have exhibitions? If so, when is your next exhibit?
I was working on a series for a show at the end of 2018. After that, I've been thinking a bit about a change in direction and stopped painting. Last year and a half, cottage renovation projects and my new hobby of making book boxes occupied my weekends and evenings. I'm getting back to painting perhaps this summer. I don't have an exhibition scheduled at the moment.
How do you think UVic has facilitated your transition to the world of art librarianship?
Very well, I would say. The transition was part of the accommodation arrangement after I came back from an extended medical leave in 2007-2011. The library allowed me to take several night courses in art history and contemporary art criticism at the Vancouver Island School of Art (VISA) in my neighbourhood. That helped me a lot, combined with my affiliation with the Art Libraries Society of North America (ARLIS/NA). My participation in ARLIS chapters (Northwest Chapter, Canada Chapter, and Texas-Mexico Chapter) and International Relations Committee connects art library colleagues near and far.
You are a Humanities Librarian too. What does a typical working day look for you?
I don't have a "typical" day concerning my Hispanic & Italian Studies portfolio.
But learning about Spanish/Latin American and Italian cultures opened up a lot of new frontiers to me, especially with my art history and theatre connections.
I participated in an ARLIS/NA-organized Study Tour of Venice last year and visited art-related libraries and archives there. A few years ago, ARLIS Texas-Mexico Chapter had their conference and tours in Mexico City and I visited museum and university libraries there as well. I'm currently making a list of digitization recommendations in regards to Spanish, Italian, and Portuguese rare books in Special Collections. So I guess that's my typical day with humanities.    
Are you currently working on any art projects?
My last solo show was over a year ago at Mayberry in Toronto. I'm now just about to start a new series of scenes from Siena, Italy, from my last trip there. Book box-making continues.
You oversee the International Commons book display where you have theme-based book collections every month. What benefit does it have for international students?
The book display was originally my librarian colleague Ying's idea to promote and highlight our print collection. She formed a committee ("interest group") among the subject librarians before she left for her study leave last year, during which I stepped in to chair the group. The books are contributed by all subject librarians each month according to the theme suggested by the interest group. What is the benefit? It's hard to measure the benefit or impact for the international students in particular unless we conduct some kind of survey. We don't keep track of the circulation rate on the displayed books, and space is also used by all students, not necessarily just international students. My personal view is that it benefits the library to make a connection with students who use the space, and introducing library materials themed on international interests is one way to do this.
I myself have asked you about the Thesis Boot Camp, which you manage along with the Faculty of Graduate Studies. When is the appropriate time for graduate students to participate in it?
The Thesis Boot Camp is a joint program carried out by the Centre for Academic Communication (CAC), UVic Counselling Services, Faculty of Graduate Studies and UVic Libraries. Not every grad student needs to take it. Ideally, if you have a smooth sailing throughout the thesis writing process, you don't need to take it at all. It's for those who have difficulty finishing their thesis or dissertation, or students who are stuck in the writing process and/or cannot get back to writing. If you are already in the writing process in your thesis/dissertation/MA project and having difficulty progressing, you are welcome to register. Typically students in the middle or later stage of thesis writing participate in the Boot Camp.
 Would you rather meet Picasso or be gifted one of his paintings?
I would love to have his signed original painting, rather than meeting him in person, so I can sell his work at Christie's and retire rich!
One song that you have been listening to repeatedly in the last few days or singing out loud in your home?
Funny, I haven't listened or sung any song the last few days, but my all-time favourite CDs are Lila Downs' Tree of Life/Arbol de la Vida, La Sandunga, and Border/La Lenea. I think they are all on YouTube as well. Yes, I sing some songs from these albums out loud when no one's around.  
Read more about Tad's library work.
Interview conducted by Zehra Abrar