Librarian Monique Grenier is a lifelong learner focused on community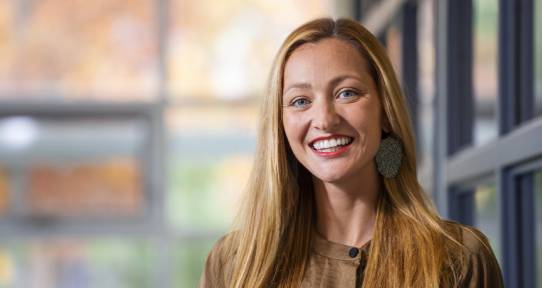 You were recently hired as the Science and Research Data Literacy Librarian. Tell us a bit about data literacy and your role at UVic Libraries.
Data literacy can be understood as the ability to read, write and communicate with data. Especially with the rise of the internet, digital technologies, and open science, there are vast amounts of data that can be used to inform research and drive innovation. Without a solid foundation in data literacy, students and researchers may struggle to effectively find, analyze, and interpret the data they need. Data is everywhere, so being able to understand and work with data in its many forms is a defining characteristic of successful scholarship.
As a librarian supporting data literacy, I help students and faculty by connecting them with relevant datasets, introducing them to pertinent tools, and teaching skills they can use to engage and work with data. On a day-to-day basis, this also involves conducting research consultations, creating and teaching workshops on research data management, and partnering with research groups to advise on how to manage research data. Whether I'm helping someone navigate a data repository or teaching data management best practices, my goal is to make data literacy approachable and intuitive, so that students and researchers feel confident when reading, writing, and communicating with data.
Apart from data literacy, what else interests you?
I am passionate about teaching! I love learning, and I am always trying to expand upon my existing pedagogy and instructional techniques. One of the many reasons that I love teaching is that it is a creative process and pushes me to ask and try to answer the question, "how can I do this better?"
I aspire to communicate advanced concepts in a clear and concise manner by providing explanations and relatable examples. Furthermore, as an instructor working within the sciences, I endeavour to adhere to the principles of Open Science, the movement to make research and its dissemination accessible to everyone. By making all my teaching materials openly available and accessible for use and reuse, I can make a small contribution to the broader global incentive to make research more transparent, collaborative, and open.
What compelled you to become a librarian?
Ever since I was small, I've always been a devoted reader. I love being immersed in others' worlds, seeing from their eyes, and learning about diverse time periods, countries, and cultures. Plus, I've found immense comfort and a sense of security within libraries. As I grew older, my passion for reading deepened alongside my conviction that libraries are one of the rare public spaces which provide people of all backgrounds a safe environment conducive for learning and self-exploration. So, when I was faced with a crossroads of what career path to follow, it felt like a natural choice to aspire to work for libraries, institutions whose core values mirror my own - including equitable access to information, lifelong learning, and social responsibility.
Since becoming a librarian at the University of Victoria, I've also come to appreciate the diversity of roles that academic librarians can play in facilitating research. Not only do librarians support students and faculty through teaching and research consultations, but we also ask interesting research questions and engage in scholarship ourselves. To that end, I have found academic librarianship to be a dynamic and varied profession, and I am so glad to have landed here.
Tell us about your journey in becoming an academic librarian. What did you do prior to coming to UVic Libraries?
At first glance my varied professional background may appear atypical in the context of a Science and Research Data Literacy Librarian, but it has imparted on me the skills and perspective to be an effective and adaptable librarian, ready to take on whatever challenges may come my way.
After completing an undergraduate degree in English literature, I worked as a social worker for several years in western New York State. While I enjoyed the work and the opportunity to make a difference in people's lives, my passion for libraries and archives motivated me to study information and library science. As I began my studies at the University of British Columbia, I was drawn to digital libraries and their potential for making previously inaccessible collections open, widely available, and easy to use. Since graduating, I have held various roles within libraries and archives, broadly focusing on digital archives, health librarianship, and research data management.
A commonality throughout these positions has been how much I enjoyed the connections that I formed with the clients, patrons, and students who I have supported. To me, these relationships are the most rewarding and gratifying component of librarianship. Whether it's helping a student navigate a complex database or assisting a researcher in finding the information they need, forming connections and helping others keeps me excited and engaged in my work.
You are an active volunteer in your community, tell us why this is important to you?
Regardless of where I have lived or travelled, volunteering has been a creative way for me to use my skills and knowledge in different environments. One of my most memorable experiences was when I volunteered as a reading teacher for low literate adults in Rochester, New York. This was a challenging experience, as I worked with individuals, who because of systemic and structural racism, faced significant barriers to literacy and education. Nevertheless, witnessing the students' progress was incredibly inspiring, and it not only reinforced the impact that volunteers can provide to communities, but it also deepened my understanding of the transformative power of education.
Currently, I am involved in volunteering through my local community centre where I help serve by-donation meals to community members who are experiencing food insecurity. Food prices are soaring in Victoria and the cost of living is becoming unbearable for many individuals and families; serving community dinner is a small action that I'm able to take to combat these rising tides and to help those who need it most. To me, volunteering is an approachable activity that not only imparts a measurable impact on communities, but also inspires personal growth and fosters a sense of belonging.
What keeps you busy in your spare time?
When I arrived in Victoria in May 2020, I was blown away by the quality of peoples' home gardens. It was clear to me that there is an ethos unique to this city that celebrates gardening as a form of self-expression and community building. Before long, I transformed my urban patio into a lively garden where I've delighted in experimenting with growing herbs, vegetables, and flowers from seed. Gardening has become my favourite pastime, and I've come to value how meditative and refreshing it feels to take a break from the bustle of the digital world to simply play in the dirt. Additionally, I take great satisfaction in the ability to grow my own food, and although my impact may be small, I am glad to reduce my carbon footprint and contribute to a healthier planet.