A passion for metadata brings Librarian Laura Doublet to UVic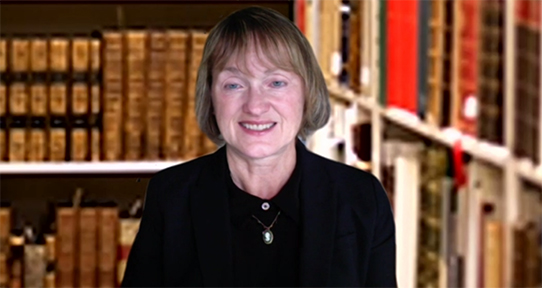 You recently started as Metadata Librarian at UVic Libraries. Tell us about your journey to UVic.
My journey started as a cataloguer in the Bibliographic Services department at the University of Calgary (U of C). In this role, I catalogued a wide variety of resources, including monographs, serials, and electronic resources.
I also assisted with the implementation of the U of C's first off-site high density storage library. This included the supervision and training of the staff responsible for the processing and preparation of the materials moving to this facility. Every item that is housed at this facility must be barcoded, including every monograph, periodical issue and archival box. As you can imagine, this was a ton of barcodes.
I was then appointed the Coordinator for the Special Resources Metadata team. This team was responsible for cataloguing out of the ordinary types of items such as video games, DVDs, special collections and as well, this team was responsible for archival processing. Through this role, I was able to broaden my knowledge of archival, digital, and museum collections and the metadata and other processing standards required to make them fully discoverable.
I was selected to be the team lead for the metadata group in the migration to a new library management system. In this role, I directed the team that reviewed the existing bibliographic and authority records and procedures that were in use, and ensured that appropriate data clean-up processes were in place before the migration. This was critical because, without proper data conversion, the new system would contain obsolete and incorrect data.
My most recent position before coming to UVic was Operations Manager for Archives and Special Collections, directly managing six technical and professional staff. Each of these people specialized in a different area of Archives and Special Collections, and as their manager, I was able to gain a deeper understanding about this department from each one of them. In November 2018, the University of Calgary began the transition of the Glenbow Library and Archives to the U of C. I assisted with the daunting responsibilities of physically moving the museum's library and archival collection. As well, a new reading room was opened in order to provide access to these resources and the existing collections in Archives and Special Collections. I was also heavily involved in the physical and technological set up of this room.
So as you can tell, my journey to UVic was varied, but in every position, I was able to work with metadata.
After spending the first part of your career in Calgary, how do you feel about working in Victoria?
Victoria has always been special to me because while growing up, my family would vacation on Vancouver Island every year. I grew to love the city, and as an adult, I have continued to visit the city frequently. I am thrilled to be living and working in this beautiful city and to be part of such a prestigious institution.
You worked in the metadata unit at the University of Calgary. Would you say there are many resemblances to what you did previously?
Every metadata unit works with rules and standards, it is the local practices that differ. Metadata staff all have very specialized knowledge and skills and are experts in their particular area of cataloging. They also know a lot of institutional knowledge, and if someone needed to know why something was done a certain way in the past, they would be able to provide the background information. Metadata units are also closely connected to the Acquisitions and Collections departments. And not just in terms of work, but also in food! At U of C, there was a "trough," and at UVic, there is a shelf. Food is an important part of technical services. Book trucks rule in these units, and you don't dare borrow a truck without asking the owner first.
Metadata units provide discovery for the majority of the physical and electronic materials in the library. The shelves in the department are full of fascinating materials.
At U of C, I was in charge of sorting and organizing the special collections resources, and I was always awed and amazed by the material that came in. Of course, the next step in the process is determining how best to catalogue these items. That's the fun part.
Are you working on any projects at the moment?
I have been working on organizing a central place for the majority of the documentation and procedures used by the metadata unit. In order to do this, I have created a one-stop shopping LibGuide for the unit. It is still under development, and I hope it will prove useful for everyone.
Cataloguing rules and standards are constantly changing, and staying on top of these changes is also a big part of my responsibilities. The next big change coming to the world of cataloguing is the new RDA Toolkit, which will be rolled out at the end of the year. This new toolkit is organized differently than the current version, and also introduces new terminology and concepts that will require all staff members in metadata to learn and incorporate into their workflows. To assist everyone in the unit with this changeover, I'm working on becoming familiar with the changes coming to the toolkit.
Your profile says you are interested in medieval manuscripts. UVic Libraries has a regular lecture series named Manuscripts on Mondays, which provides an opportunity for the campus and the community to explore medieval and early modern manuscripts from Special Collections. What interests you about medieval manuscripts?
I am certainly not an expert on the topic, but I am fascinated by paleography. The manuscript itself is very beautiful, but the script and how it evolved over time, is particularly interesting to me. Looking at how the letters are formed, for example, how high, round, flat, or square the strokes are, words that have been joined together, the ligatures, and the variety of abbreviations that were used makes this especially intriguing for me. These variations and differences in the script can make it a fun detective job to read the manuscript.
I am also keen to learn more about the codicology of medieval manuscripts. The amount of work that went into the production of a manuscript is staggering to think about. I am really looking forward to the medieval manuscripts workshops that will be offered by Special Collections and University Archives.
If you could time travel, where would you go?
Well, first off, I would zip past this COVID period and be back in my office in the library! But seriously, if I could time travel, I would love to spend a day in the gardens of Versailles during the reign of Louis XIV. Last year, I spent two days exploring these gardens during one of their musical fountain weekends. The gardens are MASSIVE, and I can only imagine how they would have looked during the 18th century. My travel partner was in charge of the map to the gardens, and due to her expert navigating skills, we managed to see and hear the majority of the 55 fountains. Our feet were a wee bit tired after all this tromping around, and I did wonder how it might have been to wander these gardens in the very stylish but impractical court shoes of the time. The capstone of this visit was attending a performance of Bach's Brandenburg Concertos at the Opera Royal. I would add attending a concert into my time travel visit too. An amazing experience!
Interview conducted by: Zehra Abrar