In Conversation with Director of Special Collections & University Archivist Lara Wilson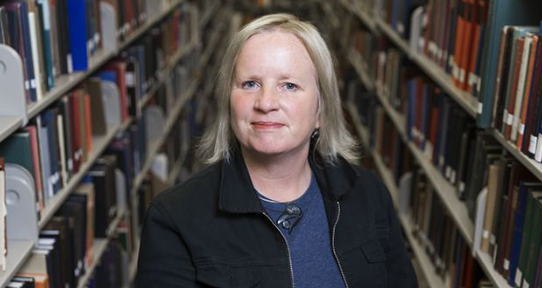 Interview conducted and edited by: Zehra Abrar, work study student
What do your professional activities include?
For a number of years I participated in different phases of the Inter Pares Project (interpares.org), based out of the University of British Columbia's School of Library Archival and Information Studies. This international research project focused on developing the knowledge to enable the long-term preservation of digital records (documents). Preservation of born-digital records (versus documents in paper or other physical media) is a significant challenge during our time of rapid hardware and software obsolescence. Other professional contributions have included two terms as President of the Archives Association of BC, as well as several terms as Chairperson for the Canadian Council of Archives; I am currently volunteering ona few boards, including the Friends of BC Archives.
UVic Libraries receives donations of rare books and archives regularly. Was there any collection which the library received that fascinated you the most and why?
We recently received a gift of a late artist's archives; the artist was an educator and social worker before she became an artist, and her art focused on mandala forms. "Mandala" is Sanskrit word for "circle." In Buddhism, mandalas represent the universe and are incorporated into meditative contemplation practices. In looking at representations of her work, it is clear that the work of creating a painted or drawn mandala is also a meditative act. The life stories documented in archives are often very moving and fascinating, and so there is considerable variety in the work we do in Special Collections and University Archives. I am especially drawn to artists' archives as I studied art history at UVic before my archival studies degree.
Archives are open to the public and your department organizes special collections workshops, seminars and lectures series. Did you ever have interesting interactions with people who attend these events?
Depending on the event, we sometimes meet people who have never visited the campus or the libraries before; and so some people have very general questions about using the libraries or about the campus in general. I always try to help them or direct them to a person who can best answer their questions, and also let them know about our Community Borrower Card. 
Often at these events, we meet people with fascinating connections to the history of Victoria, to the archives and rare books we have, and to other people in attendance. In that way, there is a strong feeling of community at our public lectures, exhibits and other events. 
What is that one collection or rare material that you want our library to acquire?
That is a tough question, as we never know what potential donation may be on the horizon! We have such varied holdings, from a Mesopotamian cuneiform tablet (2100 BCE) to recently published limited edition fine press volumes, from our Saul Holiff/Johnny Cash collection to Victoria College student registration cards dating to 1920. We do have a significant teaching collection of medieval and early modern manuscripts, and we hope to add a manuscript bible to that collection in the future.
If you are given a chance to have an exclusive tour of a private rare collection of some historical figure, who would it be?
It would definitely be the David Bowie Archives, which I believe is in New York City.  I am a great fan of Bowie – his acting, music, art – and I don't doubt his archives would be fascinating! His archives were drawn upon for the touring exhibit "David Bowie is …" which opened at the Victoria and Albert Museum in 2013 – it came to the Art Gallery of Ontario that year, but I didn't have the opportunity to see it.
What can you tell us about a records management project that the University Archives manages?
Thank you for asking that question! The University Archives is responsible for the records management program on campus. The primary tool for managing the records of the university is the Directory of Records (DOR): DOR provides descriptions of the types of records the university has plus the retention rules for those records. In addition, the DOR identifies the primary office and the security classification for each record type. DOR management and updating is a large part of the work done by our Records Management Archivist Dave Young. The branding of our records management program is comprised of the key questions: "What records do I have? Where are they? How long do I have to keep them?" More information is found here:
A fun fact about you?
I was a naval cadet when I was a teenager, here in Victoria; my cadet corps was RCSCC (Royal Canadian Sea Cadet Corps) Rainbow, which is located on Huron Street in Esquimalt.
RCSCC Rainbow was established in 1917 and is named after the HMCS Rainbow, which entered naval service as HMS Rainbow in 1892. Sea cadets welcomes youth 12- to 18-years-old to develop leadership skills, fitness, drill, music, marksmanship, as well as training related to nautical activities. My brother and I were both members of Rainbow. While I developed skills that served me well for summer jobs during my undergrad and grad school years, my brother went on to a career as an officer with the Royal Canadian Navy, and served in operations to the Arabian Sea in 2002 and to assist humanitarian efforts in Haiti in 2010.