Librarian Jessie Lampreau shares a love of learning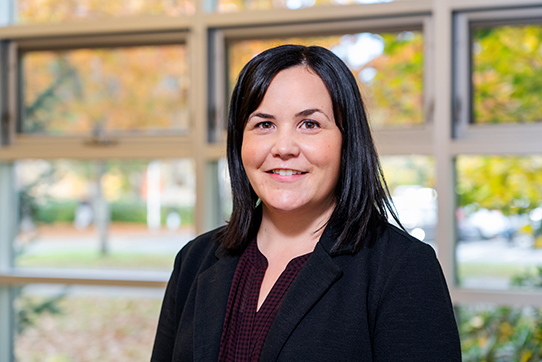 As the Indigenous Initiatives Law Librarian, what is a typical day for you at the law library?
One thing that I really enjoy about working in libraries is that everyday is a little different and you never know what type of questions you will be asked. I usually start my day by checking my email and respond to any student and faculty questions. Then depending on the day I will work on projects, attend meetings, and get ready for upcoming research consultation.
What have you most enjoyed about your role at UVic Libraries?
I have enjoyed learning about the different services that the library has to offer, and learning about different initiatives that my colleagues are involved in. I also really enjoy meeting with students and hearing about the projects they are working on, and sharing information about resources and services that will support them.
What library initiatives or projects are you looking forward to in 2023/2024, and why?
I have enjoyed being part of the Decolonizing Spaces Working Group, and I think we have some great projects planned for the upcoming year. I am looking forward to taking part in the different discussions and seeing how these projects take shape. 
I am also really excited about adding more Indigenous voices to the library collection, and cannot wait to share these resources with students and faculty.
Where did you work prior to coming to UVic Libraries?
I started working in libraries in 2011 and I have had a few different roles. At Thompson Rivers University (TRU) I was a Library Technician, and in this position I had the opportunity to work in different areas of the library. My main role was interlibrary loans and I really enjoyed searching for hard to find items. I also worked at the reference desk and enjoyed interacting with students and helping them locate resources for their research. I also had the opportunity to work at the TRU Law Library. One of the most enjoyable parts of my job at TRU was participating in library outreach initiatives. All of these experiences contributed to my decision to attend the Master of Library and Information Studies (MLIS) at the University of Alberta.
In the fall of 2020, while in my last semester of my MLIS, I accepted a limited term Indigenous Studies Librarian position at the University of Saskatchewan. But due to the COVID-19 pandemic I worked remotely from B.C. 
I think the various positions that I have held within academic libraries has given me an understanding of the role academic libraries can have, and the wide variety of ways we can support students.
What do you like about Victoria?
Good question. I still feel pretty new to Victoria, and I am looking forward to exploring the area more this summer.
What advice would you give to new students?
Ask questions and take advantage of all that the campus offers. There are so many great services here to support students, so don't be afraid to reach out and ask for help. There is an entire campus community here to support you.