Law Librarian Emily Nickerson swims her way to the finish line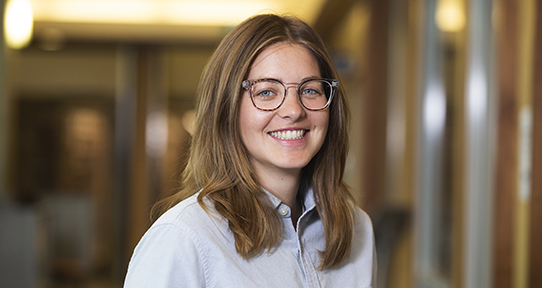 You are the Law and Business Librarian. What does a typical day look like for you at the law library?
Typically, I will start my day by checking my email to see if I have received any research help requests or other queries from students or faculty. I also share responsibility at the law library for working the research help desk each week to address any questions students may have in person. Right now, this work is happening virtually! Depending on the week, I will provide instruction on topics related to legal or business research, work on projects related to evaluating or developing the law and business collections, attend committee meetings within both faculties and the library, and update guides and other learning materials for students.
How do you balance the two parts of your job as the Law and Business Librarian? Do you meet with students from the Gustavson School of Business in their building?
I strive to split my time 50/50. Because I am situated in the law library, I am more visible to law students than business students. I make sure to attend events at the Gustavson School of Business as much as I can. So far, students and faculty have had no problems with meeting me in the law library – in fact, I think some of the business students appreciate the different environment that the law library provides.
What are you currently working on?
Right now, during the COVID-19 pandemic, I have been busy helping students and faculty from both departments identify and access alternative resources for their final assignments, research projects, and summer instruction. I am also working with our data management librarian on some NVIVO quantitative analysis workshops to be offered virtually this summer.
You have worked as a research librarian in a law firm too. How is it different from working at the university library?
One major difference is the depth of research I perform. At the university, it is much more about teaching students how to do legal or business research, rather than preparing a client intelligence report or digging up information or cases for a file.
In this year's third annual ELC Research-a-Thon, you were involved in creating a comprehensive website to help students identify and work with valuable resources in the law library collection. Tell us more about it.
This year's students organized an incredible event with over 30 participants who worked on researching plastic law and policy across many countries. The law librarians worked collaboratively to put together resources for students to assist with researching foreign legislation, case law, and policies for each of the identified countries.
What research related requests do you usually receive from students?
Law student research requests tend to be specific: citation questions, how to update the law, assistance searching for commentary or cases on a particular topic. We tend to point students to the same key legal treatises and resources. Business student research requests tend to be more diverse: it can range from sales targets for a particular company, to the leadership strategy of a particular CEO, to customer satisfaction metrics for a particular industry or product.
What keeps you busy outside of the library?
One of my favourite activities is ocean swimming. In the past, I have been part of open water swimming groups. In 2019, I challenged myself to complete 100 outdoor swims, and some of them were pretty cold!
Read more about Emily's work.
Interview conducted and edited by Zehra Abrar.