Librarian David Boudinot talks tough love about his plastic pellet passion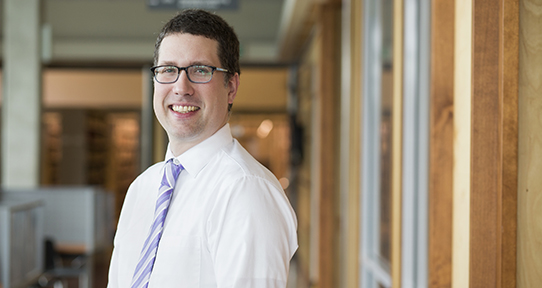 You are the Acquisitions and Electronic Resources Librarian. What does a typical day look like for you?
There is no typical day in acquisitions! These days a typical day is checking and responding to email, Zoom meetings, planning for some acquisitions staff to return to the library to begin processing print materials, and negotiating with vendors. I also assist with troubleshooting electronic resource issues as they come up.
You are interested in the growing presence of nurdles on Vancouver Island beaches. Tell us about the environmental impact of these nurdles.
Plastic pollution is a persistent problem on our lands, in the air, and in the water. Plastic continues to accumulate and doesn't quickly degrade like other materials. I have been involved in a three-year research project documenting plastic pellet spills in British Columbia, and have learned that plastic pellets can soak up toxic chemicals and be ingested by wildlife.
Moreover, how do you think we, as individuals and the community, can contribute to stop/reduce the nurdle menace?
The answer is both complicated and simple at the same time. Plastics, transportation, and plastics manufacturing industries are responsible for spilling plastic pellets. Not consumers. I've said it before––you can't recycle your way out of plastic pellet pollution. As consumers, we can limit the amount of single-use plastics we use. But that won't necessarily directly prevent spills of plastic pellets. Encouraging our lawmakers and regulators to pay more attention to this issue, and demand that companies make more of an effort to prevent spills of plastic pellets hopefully will start to "stop/reduce" this issue.
You are also part of the Surfrider Foundation as a plastic pellet researcher. Tell us more about this organization and its work.
Surfrider Foundation is an international non-profit dedicated to protecting our coastlines and waters. I am involved with Surfrider Vancouver Island and Surfrider Canada with some of their advocacy and public awareness efforts – from monthly beach cleanups to media events where we get plastic pollution issues in the news. Surfrider was originally started in California by a group of surfers concerned about the environment and public access to beaches. It has grown to be an international organization of ocean advocates.
You are one of the trustees on the UVic Pension Board. What are your responsibilities as a trustee?
The trustees of the Pension Board are responsible for directing the fund managers that we contract and Pension Office staff. As an individual trustee, my responsibilities include attending monthly board meetings, reviewing reports and presentations, and serving on committees.
Are you working on something currently that you can tell us about?
I am currently working on setting up some evidence-based acquisitions programs with several publishers for greater access to eBooks at the library. We hope to have these set up in June. It should improve the number of ebook titles we have access to.
If you could know the absolute and total truth to one question, what question would you ask?
Will we ever see our society transition from selfish to selfless?
If you had to choose one cause to dedicate your life to, what would that cause be?
Any environmental issue, really. If we don't take care of our environment now, how will future generations be affected? We are all connected. Decisions made in the past affect the present, and what we do in the present will affect the future.
Interview conducted and edited by Zehra Abrar.