Librarian Christian Schmidt embraces the ever-changing landscape of scholarship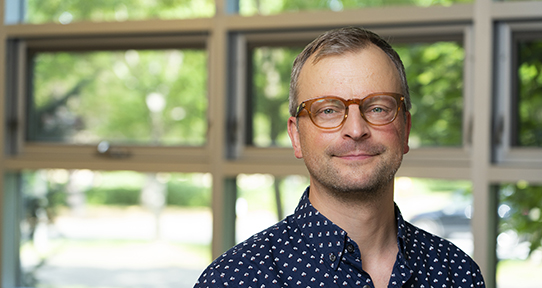 You were recently hired as the Open Scholarship Librarian. To the lay person, how would you best describe your specialty?
As an Open Scholarship Librarian, I am helping to evolve the current scholarly ecosystem beyond its traditional boundaries, such as paywalls or restricted licenses, to one that is as open and transparent as possible. This shift is expected to result in positive impacts on many levels. These range from addressing internal academic concerns, such as improving the repeatability of research results by making them openly accessible, to larger societal issues, such as opening up the research process to the very society which funds it with its tax money and whose enhancement it ultimately serves. This includes involving members of the public in the process of research and knowledge accumulation wherever possible and appropriate. There are numerous so-called Citizen Science (or Community-engaged Research) projects - including here at UVic - that demonstrate the benefits of such an approach. Many projects that will help improve humanity's response to a pressing issue such as climate change would not have been possible without the participation of laypeople.
Other objectives include liberating knowledge production from its inequalities and to promote equity and diversity in a globally interconnected scholarly system. Providing access to education and research for everyone by removing payment and licensing barriers and enhancing the global distribution of knowledge in all directions are some of the goals of Open Scholarship.
The overarching purpose of Open Scholarship is to democratize scholarship further and ultimately change our world for the better - and I'm very happy to be a part of that!
Tell us about your journey to UVic. What did you do prior to coming to UVic Libraries?
In Germany, I was trained as a bookseller - a very traditional profession in the German-speaking world. I loved this work, but sadly it lost its perspective and chances for career development in the monopolizing market of the 2000s. So about 10 years ago, I decided to become an academic librarian because, in contrast to the book trade, I saw a diversification of roles and the emergence of exciting new tasks in librarianship.
Since then, I have worked in a variety of libraries – a specialized geographic library with a large archive and a historical map collection, the very hands-on library of a university of applied sciences, and the library of a university of technology.
I was born in a country that no longer exists – socialist East Germany. My educational and professional career is very typical of an East German of my generation, full of turns and detours, but this circumstance has also granted me many insights and experiences that I would not have gained otherwise, and I am very glad that my path eventually led me here, to the place that is now known as Victoria.
Are there any library projects you want to pursue in 2023, not currently on your radar?
I just completed a review of Lens.org, a very exciting database of bibliographic data. For anyone who has any idea of how high the license fees for some scholarly products that libraries subscribe to can be, it may be difficult to believe, but this alternative resource for scholarly information is both comprehensive and free. And as icing on the cake, it comes with an extra dollop of social awareness, because the company behind the database is a non-profit organization with a social agenda for global knowledge equity, a goal which is also to be achieved with the help of Lens.org. It's very fascinating to see the areas in which free and open software products are establishing themselves and the high quality they bring to the table these days. Personally, I believe that such open, non-commercial products - very much in accordance with the values of Open Scholarship - will determine the future of scholarly infrastructures.
As for 2023, there are no specific projects yet... the agenda for the starting year has yet to be set. One of the most interesting fields to me, which will certainly pick up pace rapidly this year, is the relationship between so-called artificial intelligence and scholarship. Developments in this area are moving faster than I have ever witnessed before, the impact on some aspects of teaching and research can hardly be overestimated, and I suspect there will be a great need for exchange and guidance that will also affect library work. According to the International Federation of Library Associations and Institutions (IFLA), libraries – which have always had an affinity for the early adoption of new technologies – have a major role to play in this regard, especially when it comes to mediating so-called AI literacy and promoting the responsible use of AI tools.
Based on these and other fascinating developments, I look forward to the tasks of the upcoming year - I suspect that no one who works in academic libraries around the world will be bored in 2023.
You migrated your social media activity over to Mastodon. Are you abandoning Twitter or just taking a break from it? Do you have any words of advice or support to offer your current Twitter followers?
I was fairly new to Twitter when it was acquired by Elon Musk - I've only been using it for a year now. And although I found the vibes on the platform to be exhausting at times, even before "the bird was freed," I soon learned to appreciate Twitter as a tool that makes it easy for me to keep up with many of my interests, both professional and personal. But many of the current developments around the platform are of course obnoxious to me. That's why I've shifted my already rather quiet reception of others' Twitter activities even further into passivity. But I'm still around and want to follow developments firsthand.
My theory anyways is that a large proportion of Twitter users who are alarmed by developments on the platform, or those who are simply annoyed by the politicization of the tool and so would have every reason to turn their backs on it, stay there primarily because they have developed a kind of FOMO - they all want to see Nero play the fiddle up close.
And while I find Mastodon very promising - besides the pleasantly considerate and collaborative atmosphere, especially the completely different technical and organizational approach - I'm not sure it can completely substitute Twitter.
But I can only encourage everyone to try it for themselves. It's fun, the current atmosphere of change and optimism feels a bit like the early days of the Internet, and the switch is made easy through various tools, which allow anyone to find most of their peers from Twitter who are also on Mastodon with the click of a mouse. I also see that there is a lot of momentum – more prominent names have been popping up there for some time now. From Greta Thunberg to the European Commission to Volkswagen, and countless researchers and scholarly initiatives... it is no longer a place for tech-savvy misfits.
Since moving to Victoria, have you discovered a new outdoor activity or favourite restaurant?
Not a favorite restaurant, but a coffee roaster: Eleven Speed Coffee. I am obsessed with the masterfully curated selection of exciting coffees from all around the world that they have to offer. And the best part: They deliver their beans by bike, which is just one of those quirks that I love about small, inspiring businesses like theirs.
Outdoor activity: For me, there is nothing better than standing on Pkaals (Mount Tolmie) and enjoying the wonderful view of the place where we are allowed to work, play and live. I am truly grateful to be here, and a walk up there reminds me of that every time.
What historical figure would you most like to have dinner with, and why?
That would be, without hesitation, Boris Vian - the French jack-of-all-trades and intellectual maverick! He was an engineer, jazz musician and record label operator, chansonnier, court jester of the Sarte/Beauvoir circle, author of strange romance novels and wacky pulp fiction, among other roles. He died at the age of 39 - much too early, but as befits an artist of his caliber, under bizarre circumstances at the movie premiere of the adaption of his novel I Spit on Your Graves. I admire his work and love everything he did. I would like to ask him over a drink how he squeezed that excessive creative output into a rather short life.