Librarian Carol Gordon advocates for distance students with virtual solutions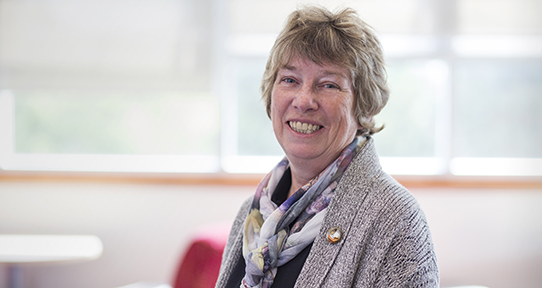 You are the Head, Distance Learning and Research Librarian. What responsibilities come with it?
I think one of my primary responsibilities is to continually advocate for distance students to ensure that they have library access and experiences, which are as equitable as possible to those of students who can come through the library doors. Our Distance Learning & Research (DL&R) unit is critical for providing an equitable, welcoming, and inclusive environment for distance students. We are, in many ways, the face of UVic for distance students.
What was your first job when you started back in 1993 at UVic?
When I began in 1993, I was in a contract reference position. I split my time between Continuing Studies Library Service (i.e. the present Distance Learning & Research), main library reference, and the reference desk at the Curriculum Library. It was a different world, as all reference at the time was still heavily print-based.
There have been a lot of changes in the library since then, but I am very proud of the way our services have evolved to continue to anticipate and meet the needs of our students and faculty.
You are a subject librarian for Greek and Roman Studies, Slavic Studies, Nursing, the School of Public Health and Social Policy, and Social Work. What goes into making and updating LibGuides for these subjects?
Well, each has tools and resources specific to their discipline, which you want to be able to showcase and draw to students' attention. Still, there is also often a lot of commonality to the guides, giving the students a core foundation upon which to build. Time permitting, I would dearly love to give all my guides a complete refresh this summer. It is a welcome opportunity to learn new things about your areas and to remind yourself of things you have quite forgotten.
Being an instructor for various academic workshops in the library, how are these workshops useful to students?
I often hear from students after a workshop that they wish that they had had an opportunity to have that workshop much earlier in their academic career! So I am hopeful that they are helpful. I try to give them a sound foundation, but also to challenge them, to do the most effective search they can, every time, because if the search is lacking, so too will be the paper which comes from it.         
Further, I try to use the workshops to emphasize that I am accessible and want to hear from them if they are having any issues or questions regarding their searches. I particularly look forward to the sessions I hold every year at the end of August when distance graduate students from Human and Social Development programs come to campus for a week-long orientation session to begin their Master's studies. The workshops put a human face to us and help to make the whole experience less daunting.
With students working remotely due to the pandemic, it can be said that they are all now distance students. Are there distance learning tools that can be shared with the wider student population?
Yes, and that is happening. From Zoom, which I find a great tool for conversations with students and faculty, and which has become incredibly popular in the past couple of months, to BlackBoard Collaborate, which has long been a mainstay of my online instructional program, to free apps like Genius Scan, students and educators alike are turning to virtual solutions.  We are really very fortunate that we can do as much as we can in a completely online environment! An unforeseen consequence of the pandemic is that these and other tools are becoming normalized, and we are all becoming more aware of the kinds of challenges and frustrations distance students face regularly.
Tell us about current research/projects that you are working on.
I have been involved for several years now with the School of Nursing's JBI Centre for Evidence-Informed Nursing and Healthcare, and this has given me a great opportunity to work closely with faculty on their JBI scoping and systematic reviews. Right now, I am finalizing a search strategy for a scoping review. Later in May, the UVic JBI Centre is hosting a virtual five-day intensive training workshop, so I am also currently working on preparing a recorded introduction to JBI tools and resources for the participants.
How many languages can you speak?
In truth, I can only speak one language, and not that well! I have (or had--my vocabulary is shrinking all too rapidly) reading fluency in a number of languages, including Latin, Ancient Greek, German, French, and Italian, and I have a very rudimentary acquaintance with Russian. I think years of studying Latin has made me something of a grammar nerd, and it certainly provided a great foundation for learning other languages!
Lastly, sunny afternoons or rainy evenings? Which do you prefer?
I like both, but my dogs would vote for the sunny afternoons and a walk on the beach, so we'll go with that.
Interview conducted by Zehra Abrar.