2019 University Librarian's Lecture
Building Reconciliation through the Archive: the past, present, and future of Indigenous documentary heritage.
A conversation with Carey Newman, Shelagh Rogers, and Ry Moran.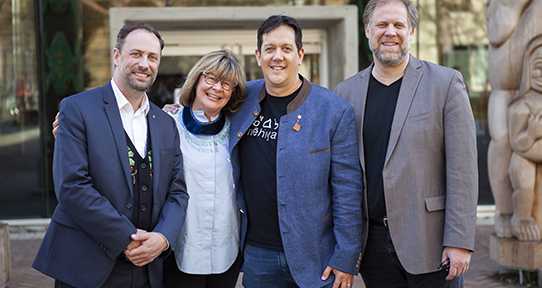 Thursday, April 4, 2019
6 - 8 p.m.
Reception: 5:30 p.m.
First Peoples House
University of Victoria
Archives related to the Indigenous peoples of Canada have a past; they have a present; they have a future – and the three are patently NOT the same according to Ry Moran, Carey Newman, and Shelagh Rogers.   The panel will invite the audience to join them in considering the implications for Canada's documentary heritage in the wake of the Truth and Reconciliation Commission's recommendations.
In an increasingly digital world, is the power of the physical object obscured by its digital surrogate?  Does ceremony have a role in animating the archive?  What is the relationship between documents and their oral history, and their connection to land and historical context?  Should documentary heritage held by institutions be returned to communities?  Will the destruction of documentary evidence lead to modern versions of past moral and ethical vicissitudes? Can how we approach Indigenous archives deepen our understanding of the meaning of truth and reconciliation?
Through conversation and audience engagement, the 2019 University of Victoria University Librarian's Lecture will surface tensions and explore paths towards the role of archival evidence in shaping a new vision for Canada.
Arrive early as seating is limited. Reception: 5:30 p.m.
Admission is free.
Suggested donation of $10 to support the Bruce Parisian Library at the Victoria Native Friendship Centre.