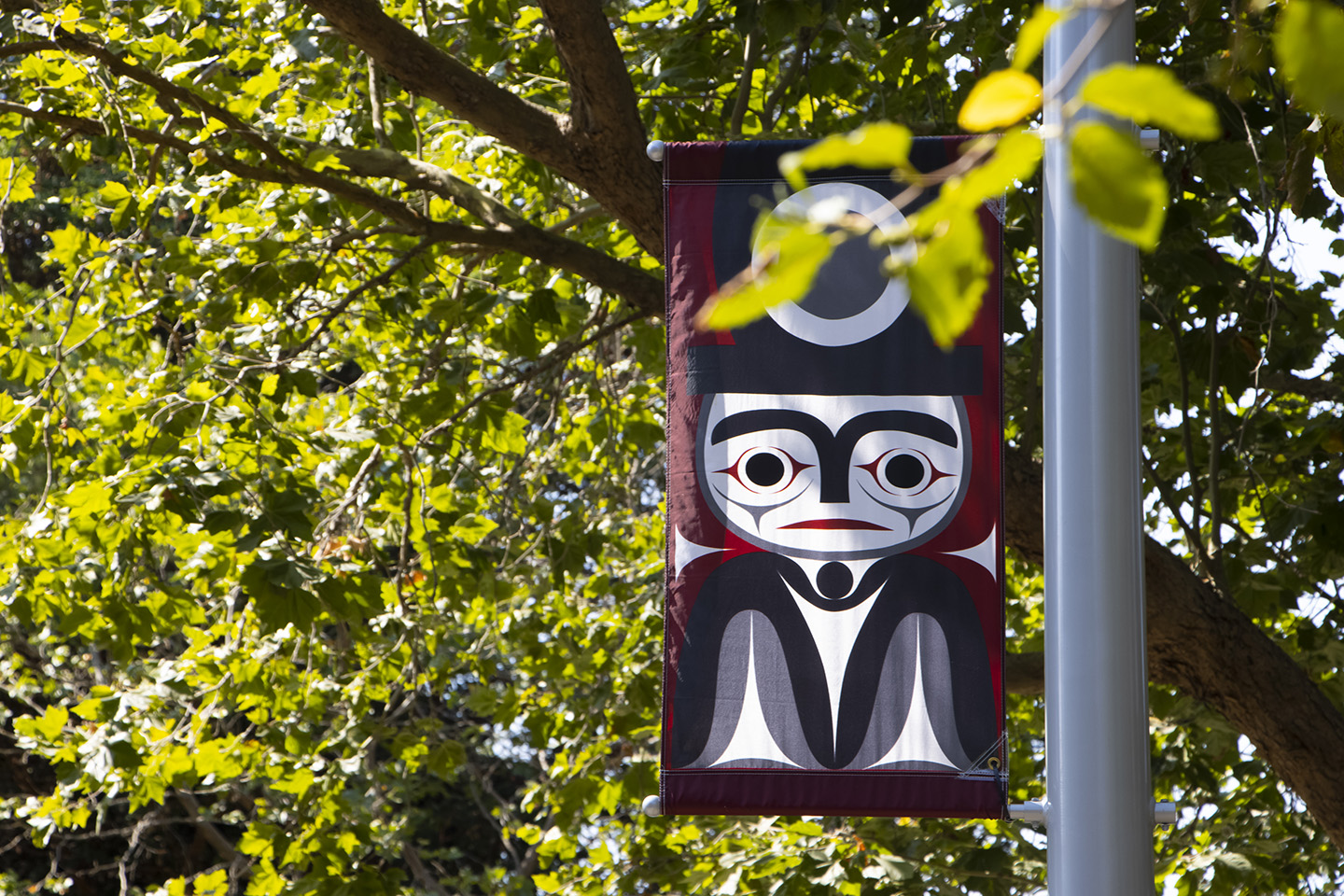 Coast Salish welcome gesture: "Come in" by Margaret August, photo credit: Anahita Ranjbar
For Coast Salish peoples, historically and contemporarily, art is a visual language - or a "form of writing," to convey specific messages and communicate their histories, lineage, creation stories and the knowledge of their ancestors (William Good as cited in Yu, 2019). Coast Salish Master Carver Temosen, Charles Elliot, describes what we now call totem poles as "silent ambassadors" that let people know that First Nations people are still here (as cited in Atkins-Baker, 2021). While totem poles have commonly been associated with more northern Northwest Coast People, Coast Salish peoples had freestanding poles and elaborate house posts that adorned traditional longhouses, were territorial markers, told the stories of the community that resided there, and provided protection and guidance, as well as welcome figures that invited people in to the community.
Welcoming is an important part of Coast Salish culture. As lək̓ʷəŋən Elder Dr. Skip Dick often explains, the Coast Salish people were very welcoming and used to welcome people who arrived on canoes from all over, and they would provide them with a place to rest and food for their journey. Canoes that arrived would ask for permission to land in Coast Salish harbours, and then they would be cared for by the community. Welcome songs and welcome figures, or welcome poles, are common in Coast Salish territory. The raising of hands communicates thanks, or a gesture of gratitude and humility, in Coast Salish culture, so welcome figures often have human figures with arms raised or extended as a sign of welcome.
 - by Dorothea Harris, VPRI
Atkins-Baker, M. (2021, July 24). Greater Victoria master carver says Indigenous art a way to restore culture: Totem poles and other works are cherished worldwide. Saanich News. 
W̱SÁNEĆ Leadership Council (n.d.). W̱SÁNEĆ Art Protocol.
Yu, K. (2019, February 9). First Snuneymuxw people represented in totem at VIU: Te'tuxwtun pole situated at Vancouver Island University health and science centre. Nanaimo News Bulletin.