Gillian Saunders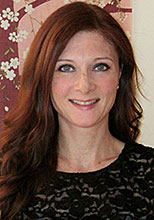 Position
English as an Additional Language (EAL) Specialist
LTSI
Credentials
BA (UVic), MA (Queen's), Editing Certificate (SFU)
Contact
Office: LIB 135i
Gillian is an English as an Additional Language (EAL) Specialist at the Centre for Academic Communication at the University of Victoria. She has completed a BA (Honours) in English Literature at UVic, an MA in English Language and Literature from Queen's University (Kingston, ON), and a Certificate in Editing from Simon Fraser University. She is also a Level Two TESL Canada certified English instructor (VIA, Victoria, BC). Prior to returning to UVic, Gillian taught English in South Korea for six years and traveled extensively in Asia. She is thrilled to be back home on the West Coast and at UVic, doing what she loves best.
Business English and Communications (BCOM)
Grammar
EAL Learning Plan Consultations
Pronunciation
Presentation Skills
Intensive Lab in English for Academic Purposes
English Conversation Café (2008-2015)
Academic Writing, Creative Writing, English Conversation, Business Communication, Resume
Writing, Introduction to English Literature, Intensive Summer and Winter Camps (2008-2013, Busan, South Korea)
Composition theory, socio-cultural factors in second language acquisition, discourse analysis, language evolution, grammar, editing, English for academic purposes, English literature, corpus linguistics, and applied linguistics.
Degrees/Education:
BA, English (Honours with Distinction), University of Victoria
MA, English Language and Literature, Queen's University
Certificate in Editing, Simon Fraser University
270 hour TESOL diploma, VIA Training Centre
TESL Canada certification, Permanent Level Two
150 hour TESOL certification, INTESOL Worldwide
Member of and volunteer proof-reader for BCTEAL
Member of Victoria International Academy Advisory Committee
Presenter at BCTEAL conferences in Victoria and Vancouver in 2015
Attended KOTESOL and Cambridge Day conferences in Busan, South Korea, 2009-2013