Nancy Ami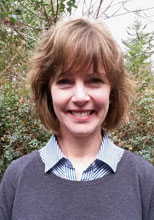 Position
Manager, the Centre for Academic Communication
LTSI
Credentials
BA (Trinity Western), TESL Certificate (Vancouver Community College), MEd (Lethbridge)
Contact
Office: LIB 135j
Nancy Ami holds a MEd in Curriculum Design and is the manager of the Centre for Academic Communication. She taught EAP at the University of Lethbridge from 1990 to 1999 before joining private English language schools first in Calgary and then in Victoria, where she taught and then managed academic programs from 2000 to 2014. She enjoys walking and gardening when she's not cheering on her sons at their soccer matches.
Writing for University, EAP courses, test preparation courses in IELTS, TOEFL and Cambridge, ESL courses at all levels.
Teaching English for academic purposes; effective writing instruction and feedback; student services and academic support; program development and evaluation.
Membership: BCTEAL, Canadian Writing Centres Association, former member of ATESL.