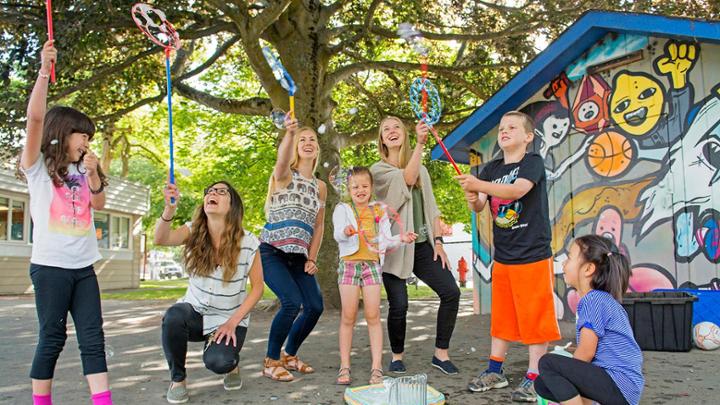 Our community is the heart of UVic. From Victoria across the world, our community members inspire change, creativity and collaboration.
We welcome you to explore the many resources and opportunities available to our community members. Connect with a UVic expert, collaborate on research, or take in one of the many movies, concerts, exhibits and athletic events on offer throughout the year.
Events
We offer a wide variety of events that are open to our community. With everything from fascinating lecture series to world-class performances, there's something for everyone.
Engage with UVic
We are committed to serving our local communities through dialogue and partnerships. Through Community and Government Relations, we regularly interact with community associations, municipalities and stakeholders in Canada and around the world.
If you have questions about community engagement and partnerships at UVic, please contact us at 250-721-7014 or engagewithus@uvic.ca.
Volunteer
Our volunteer programs provide opportunities to give back and engage with our community.
Support UVic
There are a variety of ways you can support UVic and our students.
Whether you want to create a student award, support a particular faculty or honour someone who means a lot to you, we can help you find the donation option that works best for you. Each and every gift makes a big difference.
If you have questions about how you can support UVic, you can contact us at 250-721-7624 or donorcare@uvic.ca.
Hire a student
UVic students can be an ideal addition to your workplace. They are bright, skilled, and trained in the newest theories and technologies, and can support ongoing initiatives or tackle new projects. You can hire UVic students through our acclaimed co-op program. We'll support you through every step of the hiring process and there are many funding opportunities for employers.
You can also hire our students or qualified UVic graduates through independent postings for full- or part-time positions or for casual work.
Arts & culture on and off campus
UVic has a thriving arts and culture scene, both on and off campus. You'll find a broad range of art galleries, venues and programming.
Child & youth camps
UVic's Science Venture is a non-profit organization that offers hands-on science, engineering and technology learning opportunities for youth entering grades 1 through 12. Our summer camps provide fun education activities for youth of all ages. During the school year, we offer after-school and weekend clubs.
Vikes Recreation offers summer, pro-d and spring break camps for children and youth aged 5 to 17 years old.
Continuing Studies
Explore your creative side, develop your career skills, or revisit your academic goals with Continuing Studies at UVic. Each term, we offer more than 200 credit and non-credit courses, all open to members of the general public. We also offer international programming to individuals and groups around the world. Gain a new perspective on topics such as business, health, world languages, the arts and more.
Community-engaged learning
Join us as we tackle issues that matter to people, places and the planet. Support community-engaged learning by mentoring a student or providing a real-world project our students can learn from.
Auditing UVic courses
Auditing a course means attending it informally, without getting academic credit. You may audit up to 3.0 units of undergraduate courses in a session (typically two courses of 1.5 units each).
You must receive permission from the department offering the course in order to audit it.
Auditor Class Entry Forms are processed beginning on the first business day following the last day to add courses for the term.
You may attend classes prior to being registered as an auditor, but you may need to request that your instructor grants you access to online resources.
Please make sure to review the conditions to register as an auditor and auditing fees.
To register to audit a class, please fill out the Auditor Class Entry Forms and submit it to studentsupport@uvic.ca.
Community-university research partnerships
Do you have a question about an issue affecting your community? Partner with UVic to find answers. We bring together community members, faculty and students for collaborative research projects.

You can also contact an expert at UVic for access to the wealth of knowledge our university has to offer.
Book a venue on campus
UVic is an ideal place to hold conferences, workshops, meetings and other events, with a wide variety of spaces available to book. Whether you're looking to host a large event or a small meeting, we would be happy to discuss options with you. 
Booking outdoor spaces
UVic staff, student or faculty: contact the office of the Vice-President Finance and Operations at vpfoproj@uvic.ca.
Community members: contact the office of the Vice-President External Relations at jmpotter@uvic.ca.
UVic-owned properties
The University of Victoria owns and manages several properties in the Victoria area.
The Vancouver Island Technology Park is home to 31 leading hi-tech firms, which contribute more than $280 million annually to BC's economy. Our Marine Technology Centre houses seven oceans- and marine-related firms.
Other notable UVic properties:
Learn more about UVic owned properties.