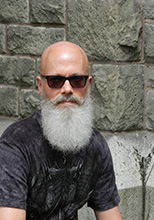 Medieval Studies
Contact
Office: CLE D266
I am a specialist in the material culture of early medieval Western Europe, especially traditions of stone-working in Anglo-Saxon and Anglo-Scandinavian England. My interdisciplinary Ph.D. dissertation, "Sculpture and Identity in Late Saxon East Anglia" (2010), was completed in the Centre for Medieval Studies at the University of York, U.K. (funded by an Overseas Students' Award and a York Research Scholarship). From 2010-2012, I was a SSHRC Postdoctoral Fellow at York University, Toronto, and the University of Guelph; from 2012-2015, I held an Associate Research Fellowship in the Centre for Studies in Religion and Society at the University of Victoria.
My research explores the relationships between objects, texts and identities in early medieval England. I also study nineteenth-century medievalism in the British Empire—specifically, its promotion of "Britishness" on contested frontiers.
In addition to my academic career, I have been employed as a visual resources librarian, as an archivist and as a heritage commissioner.
Selected publications:
Monographs
Ely, art-production and the Benedictine Reform, ca 10th-11th cs. SSHRC-funded. Manuscript in preparation for the University of Toronto Press.
Edited Volumes
New Voices on Early Medieval Sculpture in Britain and Ireland. BAR (British Archaeological Reports), British Series, no. 542 (Oxford 2011).
Articles
"Approaching pre-Conquest Stone Sculpture: Historiography and Theory." New Voices on Early Medieval Sculpture in Britain and Ireland. Ed. Michael F. Reed. BAR, British Series, no. 542 (Oxford 2011): 1-12.
"Sculpture and lordship in Late Saxon Suffolk: the evidence of Ixworth." Approaching Interdisciplinarity: Archaeology, History and the Study of Early Medieval Britain, c. 400-1100. Eds. Zoë Devlin and Caroline Smith. BAR, British Series, no. 486 (Oxford 2009): 38-46.
"Intercultural Dialogue in Late Saxon Norwich: the St Vedast Cross." Quaestio Insularis: Selected Proceedings of the Cambridge Colloquium in Anglo-Saxon, Norse and Celtic 7 (2006) [2007]: 119-137.
"Norwegian Stave Churches and their Pagan Antecedents." RACAR (Revue d'art canadienne/Canadian Art Review) 24.2 (1997) [2000]: 3-13.