Christine O'Bonsawin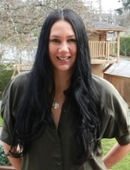 Position
Associate professor
History
Contact
Office: Clearihue B303
Credentials
BSM (Brock), MA, PhD (Western Ontario)
Area of expertise
Indigenous experiences, resistance, and activism in sport history, including Olympic and community-centred sport participation
(Abenaki Nation) Christine received a B.A. in Sport Management from Brock University in 1999 and then went on to graduate school at The University of Western Ontario where she completed a MA in 2002 as well as a Ph.D. in 2006 in the area of sport history. While in graduate studies, Christine's research focus was primarily in the areas of Olympic and Indigenous histories – both areas of personal significance and importance. During this time she was fortunate to study at Western's International Centre for Olympic Studies, work on the CBC's Olympic team, and spend six weeks in Ancient Olympia, Greece studying at the International Olympic Academy.  While completing her Ph.D., Christine taught in the First Nations Studies program at Western. Since moving to the University of Victoria in 2007 she has remained committed to researching, writing, and teaching in areas related to sport, Olympic, and Indigenous histories.
Selected publications
"Indigenous Peoples and Canadian-Hosted Olympic Games." 2013. In Janice Forsyth and Audrey R. Giles (eds.), Aboriginal Peoples and Sport in Canada: Historical Foundations and Contemporary Issues (Vancouver, BC: UBC Press): 35-63.
"'There Will Be No Law that Will Come Against Us': An Important Episode of Indigenous Resistance and Activism in Olympic History." 2012. In A Handbook of Olympic Studies, Helen Jefferson Lenskyj and Stephan Wagg (eds.), Hampshire, UK: Palgrave University Press, 2012: 474-486.
"Igniting a Resistance Movement: Understanding Indigenous Opposition to the 2010 Olympic Torch Relay." 2012. In Janice Forsyth and Michael K. Heine (eds.), Critical Dialogues on the Olympic and Paralympic Games (London, ON: International Centre for Olympic Studies): 99-104.
"'No Olympics on Stolen Native Land': Contesting Olympic Narratives and Asserting Indigenous Rights within the Discourse of the 2010 Vancouver Games." 2010. Sport in Society 13 (1): 143-156.
"A Coast Salish Olympic Welcome: The 2010 Vancouver Opening Ceremony and the Politics of Indigenous Participation." In Rethinking Matters Olympic: Investigations into the Socio-Cultural Study of the Modern Olympic Movement, edited by Robert K. Barney, Janice Forsyth, and Michael K. Heine, 2010 (London, ON: International Centre for Olympic Studies), 255-264.
"From Savagery to Civic Organization: The Non-Participation of Canadian Indians in the Anthropology Days of the 1904 St. Louis Olympic Games." In The 1904 Anthropology Days and Olympic Games: Sport, Race, and American Imperialism, edited by Susan Brownell, 2008 (Lincoln, NB: University of Nebraska Press) 217-242.(2009 North American Society for Sport History Anthology Award in Sport History)
"The Conundrum of Ilanaaq: First Nations Representation and the 2010 Vancouver Winter Olympics." In Cultural Imperialism in Action: Critiques in the Global Olympic Trust: Eighth International Symposium for Olympic Research, edited by Nigel B. Crowther, Robert K. Barney, and Michael K. Heine, 2006 (London, ON: International Centre for Olympic Studies), 387-394.