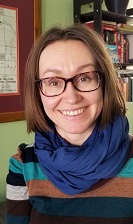 Position
Postdoc 2022-2024
History
Contact
Credentials
BA (Kyiv-Mohyla Academy); MA (Kyiv-Mohyla Academy); MA (Central European University); PhD (University of Alberta)
Area of expertise
History of Central and Eastern Europe; Cultural and Political History of the Soviet Union; Slavic studies; Ukrainian Culture; Russian History; Film and Cinema
Bio
Iuliia Kysla is a SSHRC Post-Doctoral Fellow at the Department of History, University of Victoria. She holds her PhD in History from the University of Alberta, Canada. Her research interests include political and cultural history of the late Stalin period, the Second World War, and its aftermath in the Soviet Union, as well as Soviet and contemporary Ukrainian cinema and history of the postwar Ukrainian emigration to Canada.
Kysla's post-doctoral research "Screening the Difficult Past: Histories, Memories and Images of the Soviet Union in Ukrainian Cinema, 1991-2021" examines the cinematographic representation of the Soviet past in the Ukrainian cinema since 1991 and country's own de-Sovietisation, which in Ukrainian context would be equivalent to the process of 'de-colonization.' Simultaneously, she is working on transforming her dissertation into a book about the postwar Ukraine, provisionally entitled "Discipline through Humiliation: Domestication of Writers under Late Stalin, Literary Purges and Cultural Politics in Soviet Ukraine, 1945-1953."
Iuliia is currently a guest editor for the Ukrainian peer review journal Ukraina Moderna's new special issue on Ukrainian cinema and theatre, "Projecting the Nation: Modern Ukrainian Cinema and Theatre Through the Lens of Post- (De-) Colonial Studies," which will be published in 2023.
Selected publications
"Ukrainian Famine of 1932-33 on Screen: Making Sense of Suffering," in The History of Genocide in Cinema: Atrocities on Screen eds. by William Hewitt and Jonathan Friedman (London: I.B. Tauris, 2017)
"Stalin's Spectacles of Belief, or How Soviet Ukrainian Writers Were Disciplined Under Late Stalinism" [In Ukrainian: Stalins'ki spektakli viry, abo iak dystsyplinuvaly ukrains'kykh pys'mennykiv u povoienni roky], Dyvoslovo (June 2020): 46-56.
"From the History of the Western Canada Branch of the Shevchenko Scientific Society of Canada (NTSh) based in Edmonton [In Ukrainian: Nauka u vyhnanni: z istorii Edmontons'koho oseredku Naukovoho Tovarystva im. T. Shevchenka na Zakhidnu Kanadu]", Zakhidnoukrains'kyi zbirnyk no. XLIX (2020)
"Survival Strategies Under Extraordinary Circumstances: Holocaust in Boryslav, 1941-1944" [In Ukrainian: Vyzhyvannia za ekstremal'nykh umov: Holocaust u Boryslavi (1941-1944)], Holocaust i suchasnist'. Studii v Ukraini i sviti no. 1 (11) (2012): 9-33
(editor) Borderlands. Edges. Peripheries [In Ukrainian: Pohranychchia, okrainy, peryferii], Ukraina Moderna Vol. 18 [2011].