PhD's and Post Docs
Post Doctoral Students:

Nicole Longpré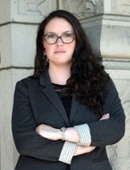 Nicole Longpré received her PhD from Columbia University in 2016, and her Bachelor of Arts (Honours) and Master of Arts from Queen's University, Canada, in 2008 and 2009, respectively. She studies modern British history, with particular interest in party politics and political culture, the history of immigration and citizenship, and Atlantic conceptions of conservatism. Her doctoral dissertation, entitled "Anti-Immigrationism and Conservatism in Britain, 1955-1981," was funded by the Social Sciences and Humanities Research Council of Canada. Her publications include "'An issue that could tear us apart': Race, Empire, and Economy in the British (Welfare) State, 1968," Canadian Journal of History 46, no. 1 (Spring 2011): 63-95. She has also contributed reviews to Social History and Reviews in History.
PhD students:
For PhD student bio's please visit the GHSU page.

Bashir, Kamran
Dissertation title: "Muslim Scholarship of the Qur'an in British India, 1860-1940"
Advisor: Bose, Neilesh
Advisor: MacLean, Darryl (SFU)
Fielding, Stephen
Dissertation title: "Sporting Multiculturalism: Postwar European Immigrants and the Grassroots Making of Canadian Diversity."
Advisor: Stanger-Ross, Jordan
Hunfeld, Christa
Dissertation title: "That hidden booke that is within you": Secrets, Codes and Ciphers in Seventeenth-Century England
Advisor: McKenzie, Andrea
Kempling, James
Dissertation title: "A City Goes to War"
Advisor: Zimmerman, David
Kuo, Yen-Kuang
Dissertation title: "Versions of History: The February 28th Incident in Taiwan, 1947"
Advisor: Chen, Zhongping
Legassie, Joel
Dissertation title: "Knowing the North Country: Orders of Information in Modern Hokkaido, Japan, 1869-1941"
Advisor: Price, John
Lyall, Gordon
Dissertation title: TBA
Advisor: Colby, Jason
Mackay, Theresa
Dissertation title: TBA
Advisor: Vibert, Elizabeth
Murray, Derek
Dissertation title: A 'Colony of Unrequited Dreams?'Settler Colonialism and the Failed-Settlement Narrative in the Ottawa-Huron Tract, 1850–1910."
Advisor: Sager, Eric W.
Advisor: Baskerville, Peter A.
Osborne, Carla
Dissertation title: TBA
Advisor: Wickwire, Wendy
Semmens, Justine
Dissertation title: "The Body of a She-Devil: Symbolic Violence, Female Aggression, and Civility in France, 1550-1650"
Advisor: Beam, Sara G.
Surjan, Zsofia
Dissertation title: "Medical Practices at Aristocratic Courts in Central-Europe in the 16th and 17th Century"
Advisor: Lewis-Hammond, Mitch
Vogt, David
Dissertation title: "In the Best Interest of the Indians": An Ethnohistory of the Canadian Department of Indian Affairs, 1896-1913
Advisor: Lutz, John
Zhou, Kefen
Dissertation title: "Mission to Modernize: The Contributions of Canadian Missionaries in China."
Advisor: Marks, Lynne S.
Advisor: Blue, Greg