MARS : Mois de la francophonie
En mars,
French @ UVic

vous invite à célébrer le Mois de la Francophonie avec différents événements tout au long du mois! Voyez la programmation détaillée ci-bas.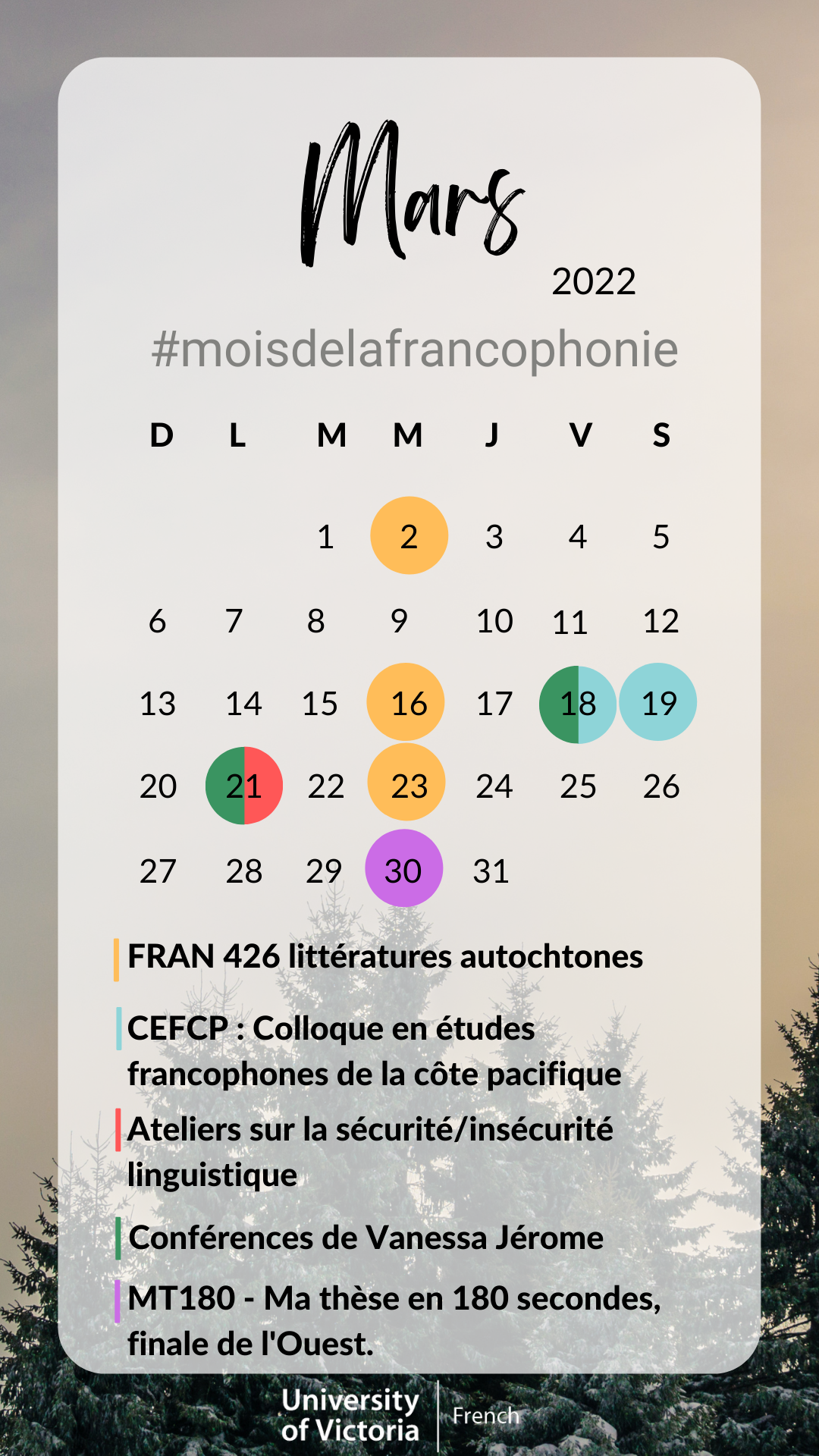 Dans le cadre du cours FRAN 426 littératures autochtones du canada et de la francophonie :
2 mars 14h30-16h

 : Le Nitassinan et le Nutshimit: l'espace vital de l'innu-aitun et ses représentations chez les écrivaines innues»
Conférence de Marie-Claire Nadeau (étudiante à la maîtrise, Université Laval)

16 mars 14h30-17h30

 : Projection: L'Enclos de Wabush (Productions Ondinnok + NTE)
Discussion avec Louis-Karl Picard-Sioui (artiste et écrivain wendat)

23 mars 16h00-17h30

 : Discussion avec Shayne Michael (écrivain wolastoqiyik)
      Sur Zoom: ID de réunion 84259741112
      En présentiel: Clearihue C329
CEFCP : Colloque en études francophones de la côte pacifique :  "Climat[s] : déplier les territoires et les relations"

,

18-19 mars 2022

.  Cliquez ici pour visiter le site web du colloque


Ateliers sur la sécurité/insécurité linguistique animé par Clémentine Creach et Suzanne Robillard du Conseil jeunesse francophone de la Colombie-Britannique dans le cadre du cours FRAN 407/503, sur les idéologies linguistiques en circulation dans les communautés francophones nord.

21 mars 2022

.



Conférences de Vanessa Jérome

 : 

18 mars, 17h00

 : Faire de la politique en écoféministe. Retour sur la candidature de Sandrine Rousseau à la primaire des écologistes français.

21 mars, 11h30

 : Intervention of Vanessa Jérome in the course FRAN 471 "Figures on the Fringe. Loups-garous et femmes renardes". Le jour où j'ai rêvé d'être une louve (en) politique

21 mars, 17h00

 : Lecture for the general public and for the Department, in English. Political 'nights', political fights.



MT180 - Ma thèse en 180 secondes

 : 


Dans le cadre du concours, chaque étudiant-e doit faire, en trois minutes, un exposé en français, clair, concis et convaincant sur son projet de recherche, devant un jury. MT180 est l'équivalent francophone du 3-Minute Thesis (3MT) qui se tient depuis plusieurs années dans les universités canadiennes et autour du monde.

La deuxième édition de la finale de l'Ouest du concours Ma thèse en 180 secondes (MT180) aura lieu virtuellement, le 30 mars 2022, 12h00 et sera présentée en collaboration avec l'Acfas, l'Acfas-Alberta, l'Université de la Colombie-Britannique (UBC), l'Université Simon Fraser (SFU) et l'Université de Victoria.

S'inscrire en cliquant ici.

 Les informations zoom et numéros de salles seront partagés prochainement.
Au plaisir de célébrer le mois de la francophonie avec vous!
L'équipe de French @ UVic
Questions? french@uvic.ca
Avec respect, nous reconnaissons les peuples lək̓ʷəŋən et leur territoire traditionnel, où est établie l'Université de Victoria, ainsi que les peuples Songhees, Esquimalt et W̱SÁNEĆ dont les relations de longue date avec ces terres continuent jusqu'à ce jour.