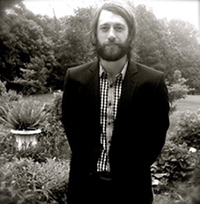 English
Credentials
BA (UofT), MA, PhD (UVic)
Status
Contact
Office: CLE D328
Dissertation Title:Of Dogs and Idiots: Tropological Confusion in Twentieth-Century U.S. Fiction
Supervisor:Dr. Nicole Shukin
David Oswald's main areas of research are U.S. fiction and critical theory, especially disability studies, animal studies, affect studies, and biopolitics. In 2018, he successfully defended his SSHRC-funded doctoral dissertation. This project shows how figures of dogs and figures of humans with mental disabilities are routinely conflated in American literary and cultural scripts of the twentieth century, and it connects this conflation to the overlapping, material histories of dog breeding and eugenics particular to the United States. With a focus on major novels by William Faulkner, John Steinbeck, and Cormac McCarthy, Oswald seizes upon this common subtext and, in turn, develops his core concept of "tropological confusion"—an alternative approach to the meanings and life-and-death stakes of these canonical works.
Currently, as a sessional lecturer at UVic, he teaches first-year courses on composition and rhetoric.
Follow Dr. Oswald here: https://mla.hcommons.org/members/davidgoswald/?
Selected Scholarly Activity 
"Why Lennie Can Teach Us New Tricks: Reading for Idiocy, Caninity, and Tropological Confusion in Of Mice and Men." The Matter of Disability: Biopolitics, Materiality, Crip Affect. Eds. David T. Mitchell, Sharon N. Snyder, and Susan Antebi, University of Michigan Press. (Forthcoming Spring 2019) https://www.press.umich.edu/9365129/matter_of_disability
"Otherwise Undisclosed: Blood, Species, and Benjy Compson's Idiocy." Journal of Literary and Cultural Disability Studies, vol. 10, no. 3, 2016, pp. 287- 304. https://doi.org/10.3828/jlcds.2016.25
"Specifying Agency: McHugh's Post-Disciplinary Lessons in Reading Animals." Review of Animal Stories: Narrating Across Species Lines by Susan McHugh (University of Minnesota Press, 2011). The GOOSE: Journal of the Association of Literature, Environment, and Culture in Canada, 11, 2012, pp. 85-87. https://www.alecc.ca/uploads/goose/The_Goose_Issue_11_Summer_2012.pdf