Teresa Petrick receives Honorary Doctor of Science in Nursing (DSN)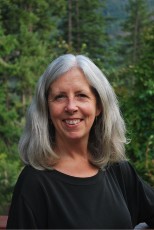 Teresa Petrick's career as a nurse, educator, scholar and administrator exemplifies the ideals of this prestigious Honoris Causa Doctor of Science in Nursing which seeks to recognize outstanding contributions to the University of Victoria, to the province of BC, to Canada and to our global society. Her career is a gold standard of innovation, scholarship, engaged citizenship and leadership that has contributed to the advancement of nursing education and the health of communities. As a global pandemic highlights urgent priorities in nursing education, the University of Victoria honours an exceptional nursing education leader who has been integral to the success of the University of Victoria and College Partners' Bachelor of Science in Nursing program (the first in Canada).
Teresa Petrick has provided vision and leadership for the successes of the Collaborative Nursing and participated in the essential work of the UVic School of Nursing since she began at Selkirk College as a faculty member in 1992. Teresa was among the core group of educators who shaped a collaborative nursing program according to a vision of health promotion, critical theory and primary health care, which was completely new in Canada. This innovative concept-based curriculum has undergone many changes over the past 29 years, but throughout those changes Teresa Petrick has provided exemplarily leadership and commitment to the hard work of collaboration to advance a visionary model of nursing education that has stood the test of time in Canada. 
Further, Teresa has been the longest standing member of the UVic and College Partners Collaborative Steering Committee, Nursing Education Council of British Columbia and Deans of Health and Human Services Committees; she has made a unique and sustained contribution to excellence in health care in BC through her diligence and dedication to all aspects of nursing education design and delivery. She has served as educator, director, dean and mentor to students and colleagues.
The University of Victoria places a high value on partnership and collaboration essential for students' access to academic nursing education in their communities.  Teresa Petrick is honoured this week for her outstanding leadership in a collaborative partnership between colleges and UVic that has sustained the delivery of a highly recognized and accredited nursing education program. 
Hear Teresa Petrick's message to the UVic Class of 2021
By Susan Duncan, Director, School of Nursing