Raising Your Voice:The benefits of a community choir for people with dementia and their family caregivers
Friday, March 16, 2016  12:00 - 1:30 pm
Royal Jubilee Hospital, Patient Care Centre Room S150 and via webinar*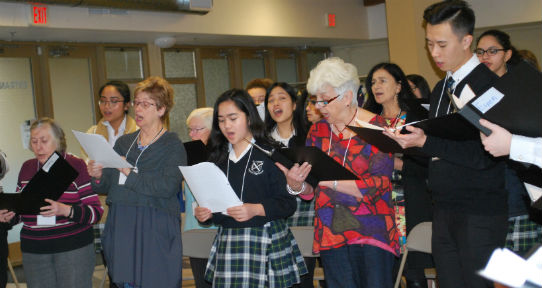 Can choirs reduce social isolation, increase quality of life and reduce caregive burden? Singing in a choir is a joyful and emotional experience that promotes social connections, and has positive outcomes that include improved mood, increased energy, reduced stress, increased self-esteem and confidence. In this session, UVic researchers and a professional choir conductor discuss the design and implementation of an intergenerational choir involving high school students, people with dementia and their family caregivers. The session will end with a short demonstration of the positive affect and social connections that come from singing together!
Presenters:
Mary Kennedy, PhD., is an Associate Professor of Music Education (emeritus), University of Victoria
Debra Sheets, PhD., MSN is an Associate Professior, School of Nursing, University of Victoria
Erica Phare-Bergh received her M. Music in Choral Conducting from McGill University
Presenters will be joined by Dr. Marilyn Malone (Medical Director, Seniors and Spiritual Health, Island Health) and a choir member.
| | |
| --- | --- |
| | |
| Nursing student Alison White's research project  see more      | Choir conductor, Erica Phare-Bergh |

 Join the Webinar on Webex (See below for detailed Webinar instructions) 

Webinar Instructions:
This webinar will be hosted using WebEx, and is open to anyone interested.
A maximum of 50 participants can join the meeting. 
Audio is available ONLY through a phone line, NOT through your computer.
How to Connect:
1. Click to join the meeting. If you have an Island Health WebEx account, you may be asked to login to your account before connecting; your WebEx password is the same as your Island Health password. If you do not have a WebEx account, simply enter your name and an email address. A webinar window will open.
2. Connect to audio: in the bottom left of the window, click on the phone icon button ("I Will Call In"). Pick up your telephone handset, and:
Dial one of the following access numbers:
28777 (Within Island Health)
250-519-3698 (Victoria)
844-445-4475 (Toll Free)
Enter Meeting Number/Access Code:  998 973 886
Enter your Attendee ID, as displayed in the WebEx audio window.
You will be on MUTE when you enter the conference. If you would like to ask a question, please use the chat box in the Webex window.