UVic competencies
A competency model describes the knowledge, skills and attributes employees demonstrate when successfully contributing to an organization's strategic objectives. The UVic competency model was refreshed in 2017 to align with current University priorities and a sharpened narrative described by The Edge.
The UVic competency model offers a high-level view of what it means to work at UVic. The model is aspirational, recognizing that pursuing our strategic objectives will always require us to lean into the edge of learning, growth and discovery.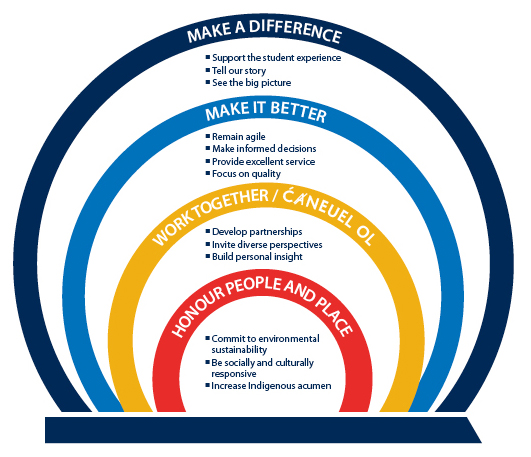 Resource guides for each competency behavior accompany the model to outline strategic linkages, sample coaching questions, enabling skillsets and suggested learning opportunities. Resource guides are intended to be living documents that can evolve to suit employee needs. If you have development ideas or ways to make them better please contact us at odls1@uvic.ca.
The model and accompanying resource guides are intended to encourage employees to ask the question "How does this show up for me?" rather than offer a prescriptive application for all. Employees and their supervisors are encouraged to identify one or two behaviours to develop at a time, in a way that is relevant and appropriate to the individual, rather than attempting to take it all on at once. For most employees, conversations about the competencies would occur as part of the annual performance and development cycle and associated goal-setting conversations.
© 2017 University of Victoria, Department of Human Resources.