Mentorship program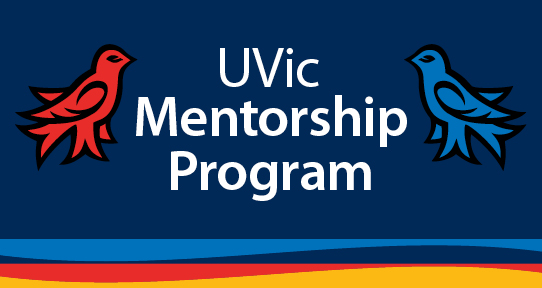 This program promotes professional and personal development by establishing a relationship between two employees. In this sense, the mentorship program facilitates informal guidance, coaching, knowledge-sharing and enhanced understanding of the University of Victoria environment.
We realize that having the right match is a critical success factor in the mentoring experience. For that reason, we ask prospective mentees to fill out an application to assess their needs.
Based on the information in the application form and subsequent conversations with the mentee, we will then invite a specific employee to act as their mentor. While mentors are approached by invitation rather than application, we welcome expressions of interest from those who wish to participate as mentors.
Benefits
Mentee benefits
Expand personal and professional network on campus
Gain an increased understanding and awareness about potential career paths
Experience a sounding board for ideas or issues
Receive positive and constructive feedback on personal and professional development issues in a confidential setting
Acquire new perspective on ways to increase development and growth at UVic.
Increase confidence
Improve job satisfaction and engagement in work
Mentor benefits
Expand personal and professional network on campus
Develop coaching and listening skills
Invest in the development of future leaders
Transfer expertise to others
Gain insights into other areas of UVic, how they work and how they approach issues
Improve job satisfaction and engagement in work
Develop pride in own skill set and attributes
UVic benefits
Promotes a welcoming environment
Supports career and succession planning
Fosters a positive impact on retention and recruitment
Engages equity groups, concepts and goals
Increases communication across the organization using non-hierarchical pathways
Develops talent
Improves job satisfaction for mentors and mentees
Testimonials
"The biggest benefit was the connections I made with others at UVic. The program allowed me to learn from another member of the community and hear about their experiences within areas that I was looking to gain experience in. The Mentorship Program would be of benefit to those looking to enhance their skill set and accumulate solutions to issues that they may be facing. Both mentors and mentees can benefit by committing to the program" ~ Patrick Seward
"I highly recommend participating in the UVic Mentorship programme. As a mentor, I took great personal satisfaction from the fact that I was investing my time and sharing my knowledge in shaping and guiding an individual's career development. The program brings together a diverse group of individuals from across campus that may not normally have an opportunity to work together, which in turn develops a better sense of UVic as a community and builds networks of connections." ~ Lisa Petrachenko
Audience
The program is run with a cohort of 10-12 pairs each year and is open to all employees. At least one pairing is reserved for members of a designated group as defined by the University Equity Policy. Priority will be given to those in regular appointments and those who have passed probation.
Duration and schedule
There is a call for mentee applications each fall. The program runs January-June and will include a mix of scheduled events and flexibility for pairs to meet on their own. Intake for 2018 has now concluded. 
Registration
Potential mentees complete the application form and submit it to the HR contact for this program during the fall intake. Participation is by application (mentees) or invitation (mentors) only.
For additional questions contact Karissa Sovdi (HR Program & Projects Manager): hrprojectsmanager@uvic.ca or 250-721-8559.