Community resources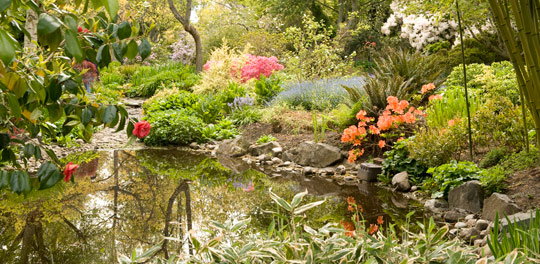 A campus for the community
We welcome you to visit our campus and take advantage of the many resources available to community members. Stroll Finnerty Gardens in the spring when the rhododendrons are at their best, or take in one of the many movies, concerts, exhibits and athletic events on offer throughout the year.
Tap into the expertise of our faculty and staff through our Speakers Bureau or the Institute for Studies & Innovation in Community-University Engagement.
The Legacy Art Gallery
The university welcomes you to our downtown Victoria gallery space, the Legacy Art Gallery. Curated by University of Victoria Art Collections, the Legacy Gallery offers visitors a rotating schedule of exhibitions throughout the year.
Exhibitions draw primarily on Michael Williams' bequest to the university and showcase the work of Pacific Northwest contemporary artists.
Continuing Studies
Shape your creative time, your career plans, or revisit your academic goals through Continuing Studies at UVic. Hundreds of fascinating courses open to the general public and around 25 specialized programs for people who love to go on learning. Drop by the Continuing Studies Building to find out what we offer or visit Continuing Studies online.
Phoenix Theatre
When you attend the Phoenix Theatre you experience some of this city's most exciting and eclectic theatre – while participating in the education of our students. Our students learn by doing! They are involved in every aspect of these productions – from acting on stage, to the design, creation and management of sets, costumes, props, sound and lighting.